Tokimeki no Houkago: Ne Quiz Shiyo (Konami the Best)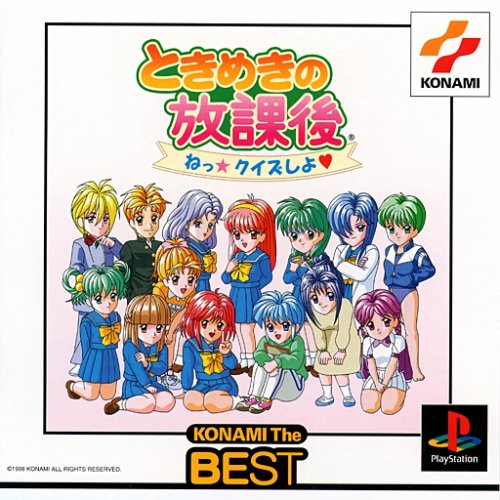 Console : Playstation
Language :

Genre : Quiz
Multiplayer : 1 player
Year : 1999
Developer : Konami
Publisher : Konami
Tokimeki no Houkago: Ne Quiz Shiyo is a quiz and minigames game originally released in 1998 for Sony's first PlayStation. This spin-off installment includes characters of the first Tokimeki Memorial.

The gameplay focuses on raising parameters by answering quizes with one of the characters, and answering correctly will raise your partner's evaluation level. A month will pass after each quiz, and you'll see a scene or event with the character you chose as a partner. However, each character has a topic they're good at and bad at.

The secret characters from the original game, Rei Ijuuin and Miharu Tatebayashi, have the same number as events as the other characters. Tokimeki no Houkago also features an ending for Yoshio Saotome, making this the first game in the series with the objective of aiming for a male character before Girl's Side. Every character except Yoshio has an alternate ending with a different hairstyle.
Further information :
Some display errors can occur when playing this game on the PS1 emulator ePSXe. Please use Mednafen or PSX.

There are no images in this album yet
---
User Feedback