Teenage Mutant Ninja Turtles - Fall of the Foot Clan
Downloads
Teenage Mutant Ninja Turtles - Fall of the Foot Clan 2016/10/24 83.71KB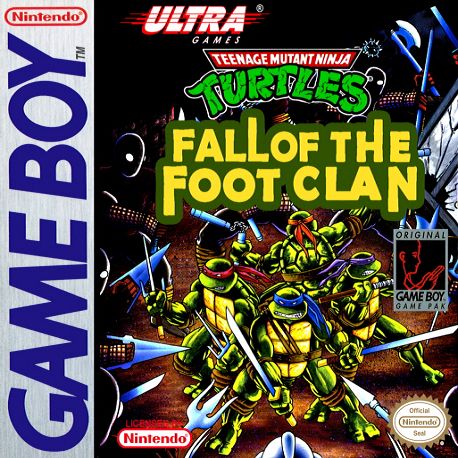 Console : GameBoy
Language :

Genre : Action - Platformer
Multiplayer : 1 player
Year : 1990
Developer : Konami
Publisher : Ultra
Weekly games : 6

This game is the first in a series of Game Boy games by Konami based on the Teenage Mutant Ninja Turtles series of comic books, movies, cartoons, toys, etc.
The basic premise of the TMNT is this: Four turtles, living in a sewer in New York, are exposed to some radioactive goo. The goo turns them into humanoid creatures and gives them approximately human intelligence. Hence, they are "mutants." Also, they are teenage turtles, which means they all talk like surfers and like to eat pizza. An equally mutated, but apparently much older, rat named Splinter acts as the turtle's guardian. He trains the turtles to be ninjas, and to fight crime. He also gives the turtle's their names: Michaelangelo, Donatello, Raphael, and Leonardo.
In the game, the Turtles' TV reporter friend, April, is kidnapped by the evil samurai, Shredder. The turtles must rescue her and defeat Shredder. Gameplay consists of standard side-scrolling jump-and-attack action. Occasionally, hidden bonus games appear to give your turtle bonus health points.
Further information :
Traduction version 1.0

Merci à FlashPV pour cette traduction.

There are no images in this album yet
---
User Feedback