Survival Kids 2: Dasshutsu! Futago Shima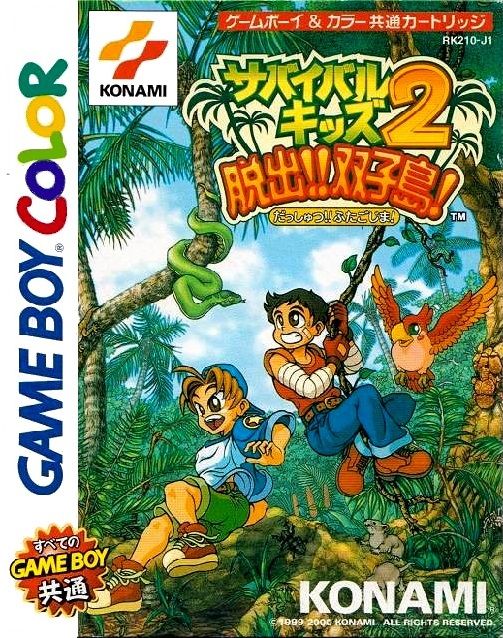 Console : GameBoy Color
Language :

Genre : RPG
Multiplayer : 1 player
Year : 2000
Developer : Konami
Publisher : Konami
Survival Kids 2: Dasshutsu!! Futago-Jima! is the Japan-exclusive sequel to Survival Kids.
In this game, the player is offered to choose between two playable characters who are brothers. The brothers were planning to go camping when suddenly, a group of treasure hunters have stolen their grandfather's treasure map and kidnapped the boys. Depending on the choice in the beginning of the game, players may start the game imprisoned or on the shore of one of the seemingly deserted Twin Islands.
In a similar manner to the previous game, Survival Kids 2 is an Action RPG game where players need to survive by getting enough rest and regularly eating and drinking. Certain food such as mushrooms can have varying effects on the character including paralyzing or poisoning him, while other food can go rotten and make the protagonist sick if they eat it. Some food also requires cooking to be actually useful to the protagonist. The sequel also adds an extra character: a talking parrot, which can be used to assist players in different situations, as well as offer hints, provided that players give him food.
The game also features a crafting system, which allows players to create a number of different items by combining two or three items. Plenty of useless items can also be made and found in addition to the ones essential to complete the game so players may need to think as to what they should take with them or throw away.
There are 6 endings in total with slight variations of each of them, depending on whether the player had rescued the protagonist's brother or not.
Further information :
Translation version 0.9

A huge thanks to hattontown and NikcDC for this translation. https://www.romhacking.net/translations/2330/

There are no images in this album yet
---
User Feedback