2
Dragon Ball Z : Hyper Dimension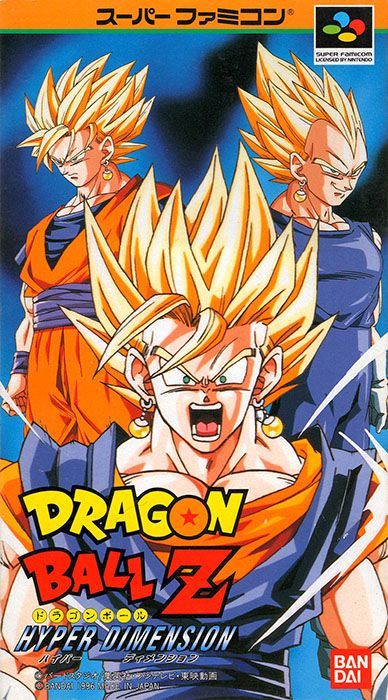 Console : Super Nintendo
Language :

Genre : Fighting
Multiplayer : 2 players
Year : 1996
Developer : Bandai
Publisher : Bandai
Weekly games : 4

This latest Super Nintendo episode brings Bandai's successful series to a close by taking the risk of upsetting the habits of the fanbase. From now on, the fighting system is more conventional by abandoning in particular the split screen. A deep second shot can be used to dodge an attack and then come back immediately by counter-attacking. It is also possible to deflect Ki assaults with an arm movement like in the manga. The combos are much simpler to execute and several aerial shots can be made before the enemy touches the ground. Even if it is no longer possible to escape from your opponent by flying on command, you can however project him to altitude and then automatically join him in an aerial scenery. In this situation, since the fighters no longer have contact with the ground, some of the ground movements are replaced accordingly. Thus, the way of fighting differs somewhat, especially since the opponents can move at different heights. Another major change is that the level of vitality is confused with that of Ki. It then becomes very important to know how to manage the expenditure of this energy if you don't want to find yourself too quickly in critical situations reminiscent of certain scenes in the manga. Finally, the sprites and sets are absolutely sublime for an SNES, in a style that contrasts with the previous episodes, very detailed and nicely colored.
Further information :
This unofficial translation of the original Japanese version allows to take advantage of the 60hertz (60fps) display and story mode, unfortunately absent in the official localization.
Related videos
---
User Feedback