Simple 1500 Series Vol. 58: The Sumou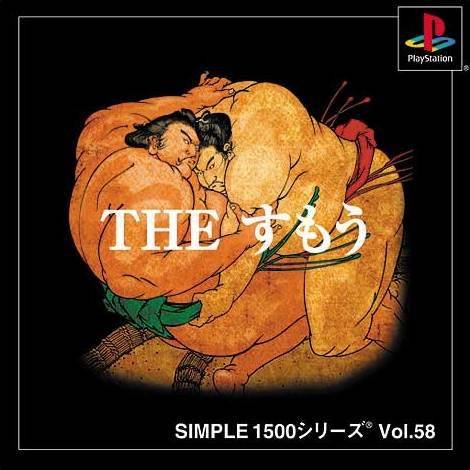 Console : Playstation
Language :

Genre : Sports
Multiplayer : 2 players
Year : 2001
Developer : Multimedia Intelligence Transfer
Publisher : D3 Publisher
Simple 1500 Series Vol.057 - The Sumo is a sumo simulation that 2 game modes:
- Tournament Mode: Compete to win the tournament
- Free Mode: Choose a character and try to win a match

Sumo is a competitive full-contact sport where a wrestler (rikishi) attempts to force another wrestler out of a circular ring (dohyo) or to touch the ground with anything other than the soles of the feet. The sport originated in Japan, the only country where it is practiced professionally. It is generally considered to be a gendai budo (a modern Japanese martial art), though this definition is incorrect as the sport has a history spanning many centuries.

Many ancient traditions have been preserved in sumo, and even today the sport includes many ritual elements, such as the use of salt purification, from the days when sumo was used in the Shinto religion. Life as a rikishi is highly regimented, with rules laid down by the Sumo Association. Most sumo wrestlers are required to live in communal "sumo training stables" known in Japanese as heya where all aspects of their daily lives - from meals to their manner of dress - are dictated by strict tradition.

The winner of a sumo bout is either:
- The first wrestler to force his opponent to step out of the ring.
- The first wrestler to force his opponent to touch the ground with any part of his body other than the bottom of his feet.

On rare occasions the referee or judges may award the win to the wrestler who touched the ground first; this happens if both wrestlers touch the ground at nearly the same time and it is decided that the wrestler who touched the ground second had no chance of winning as, due to the superior sumo of his opponent, he was already in an irrecoverable position. The losing wrestler is referred to as being shini-tai (dead body) in this case.

Sumo matches take place in a dohyo: a ring, 4.55 metres in diameter and 16.26 square meters in area, of rice-straw bales on top of a platform made of clay mixed with sand. A new dohyo is built for each tournament by the yobidashi. At the center are two white lines, the shikiri-sen, behind which the wrestlers position themselves at the start of the bout. A roof resembling that of a Shinto shrine may be suspended over the dohyo.
There are no images in this album yet
---
User Feedback