Simple 1500 Series Vol. 23: The Gateball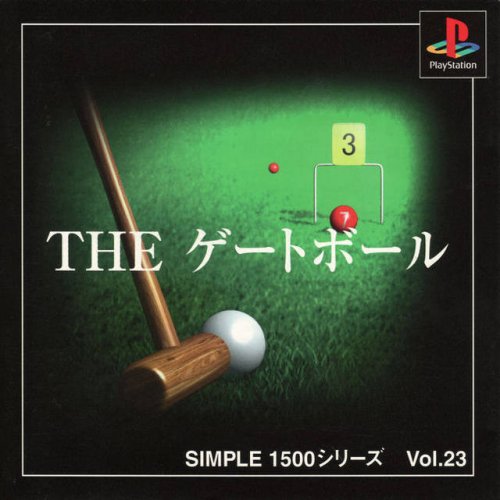 Console : Playstation
Language :

Genre : Sports
Multiplayer : 2 players
Year : 1999
Developer : Amedio
Publisher : D3 Publisher
Weekly games : 1

Simple 1500 Series Vol.023 - The Gateball is a golf croquet game featuring different teams and also a tutorial explaining the rules of the game.

Croquet is a lawn game, played both as a recreational pastime and as a competitive sport. It involves hitting plastic or wooden balls with a mallet through hoops embedded into the grass playing court.

The oldest document to bear the word "croquet" with a description of the modern game is the set of rules registered by Isaac Spratt in November 1856 with the Stationers' Company in London. This record is now in the English Public Records Office. In 1868 the first croquet all-comers' meeting was held at Moreton-in-Marsh, Gloucestershire and in the same year the All England Croquet Club was formed at Wimbledon, London.

There are several variations of croquet currently played, differing in the scoring systems, order of shots, and layout (particularly in social games where play must be adapted to smaller-than-standard playing courts). Two forms of the game, association croquet and golf croquet, have rules that are agreed internationally and are played in many countries around the world. The United States has its own set of rules for domestic games. More unusual variations of the game include mondo croquet, extreme croquet, and bicycle croquet (perhaps influenced by polo). Gateball, played mainly in East and Southeast Asia and the Americas, can also be regarded as a croquet variant.

In golf croquet a hoop is won by the first ball to go through each hoop. Unlike Association Croquet, there are no additional turns for hitting other balls.

Each player takes a stroke in turn, each trying to hit a ball through the same hoop. The sequence of play is blue, red, black, yellow. Blue and black balls play against red and yellow. When a hoop is won, the sequence of play continues as before. The winner of the game is the player/team who wins the most hoops.

Golf croquet is the fastest-growing version of the game, owing largely to its simplicity and competitiveness. Egyptian players dominate the game. Golf croquet is easier to learn and play, but requires strategic skills and accurate play. In comparison with association croquet, play is faster and balls are more likely to be lifted off the ground, as seen in this video footage.

As of 2008, the Golf Croquet World Champion is Ahmed Nasr (Egypt). As of 2010, the Women's Golf Croquet World Champion is Alix Verge (Australia).
Further information :
This game works with Mednafen Emulator.

There are no images in this album yet
---
User Feedback