Ichigeki Sacchuu!! HoiHoi-san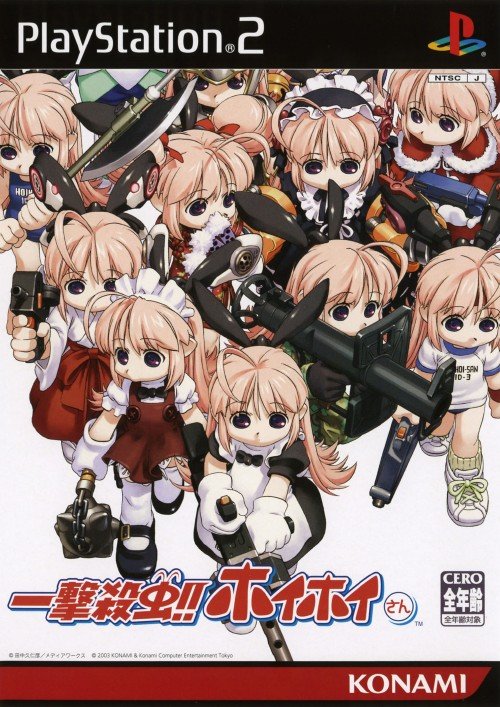 In the near future, household pests have become highly resistant to all kinds of chemical pesticides. Naturally, the answer to this plague is miniature customizable robots, programmed to hunt down and destroy household pests using miniaturized weapons. A lonely young man named Aburatsubo has just purchased Mars Pharmaceuticals' latest model, ID-3 HoiHoi-san, a cute 10cm pink-haired girl in a maid dress made to serve his every whim, just so long as that whim is to ruthlessly gun down cockroaches.

Ichigeki Sacchū!! HoiHoi-san ("One-Shot Extermination! HoiHoi-san") is a third-person action shooting game based on the eponymous manga by Kunihiko Tanaka. The player takes direct control of HoiHoi-san in various mission-based stages. The goal of each stage is generally to defeat a certain number of pests, while avoiding their attacks and ensuring that HoiHoi-san's batteries remain charged. Two different weapons can be equipped at any given time, including both long-range firearms and short-range bladed weapons, among numerous others.

As stages are cleared, the player earns money which can be used to purchase new outfits and weapons for HoiHoi-san at the local drug store. An unusual feature of the game is an optional filter that obscures the appearance of the various pests, so even those who can't stand the sight of cockroaches can play!
There are no images in this album yet
---
User Feedback