Takahashi Meijin no Bouken Jima IV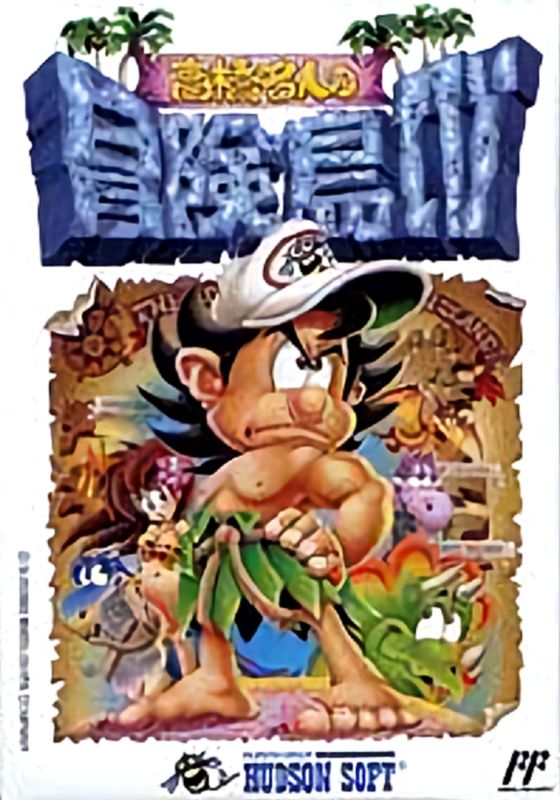 Console : NES
Language :

Genre : Action - Platformer
Multiplayer : 1 player
Year : 1994
Developer : Hudson Soft
Publisher : Hudson Soft
Weekly games : 2

The tranquility of the Master Higgins's (or Takahashi as his real name is) island is once again disturbed. This time, some unknown force is causing havoc throughout the island. And what's worse is that Higgins's 5 dinosaur pals are kidnapped. Naturally, it is up to our straw-skirt-wearing prehistoric hero to save the day.
Takahashi Meijin no Bōkenjima IV is Famicom's final installment of the Adventure Island series. Many familiar elements from the previous titles are present like Higgins's girlfriend, the island itself and his skateboard. But in addition to his usual tomahawk and boomerang, Higgin's will also get to use various new items like the parasol and the water-bubble gun.
Higgins starts off the game outside his hut with his girlfriend waving him goodbye. He's armed only with bones to throw at enemies.
Instead of the conventional "stages" Higgins has the whole island to explore. The only problem is some areas are blocked off until bosses are defeated while other is inaccessible until Higgins obtained the necessary item.
These items can be obtained by either defeating bosses or winning mini-games. Scattered throughout the island are critters who challenges you to a certain mini-game. The first one you will encounter is the whack-a-mole game but there is also a shooting gallery and races to compete in.
When a dinosaur is saved, you can ride it and use its powers (i.e. flying or flame-shooting). To make it easier to travel from one area to the next, you are giving the warp-egg. By placing it on a special mantle that's located throughout the island, you can warp to where the egg is at any time.
The select screen acts as an inventory for all of your obtained items. When you receive the compass, selecting it will show you a map of the area you are currently located in.
There is no save in the game, instead you can receive a password by taking a break in your hut. The password will act as a way to continue from where you left off.
There are no images in this album yet
---
User Feedback