Nemesis II - The Return Of The Hero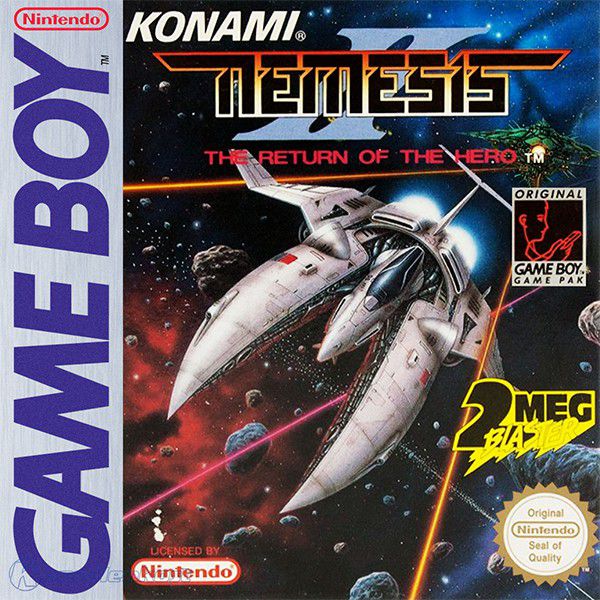 Console : GameBoy
Language :

Genre : Shoot'em up
Multiplayer : 1 player
Year : 1992
Developer : Konami
Publisher : Konami
Weekly games : 2

In the year 6664 Dr. Venom, the director of the Space Science Agency, was exiled to the planet Sard for his involvement in a failed rebellion and illegal scientific activities. One year later, he joined forces with the Bacterion invaders, escaped Sard, and took control of the space surrounding the planet Gradius. In 6666, the local government sends Colonel James Burton on the newest hyperspace fighter known as Metalion. The goal is clear: stop Dr. Venom and the Bacterion army before they conquer the planet.
Nemesis 2 (Gradius 2 in Japan) is a side-scrolling shoot-em-up. The gameplay is for the most part similar to that of Gradius. The player-controlled ship can alternate between three main weapons: Missile, Double, and Laser. Extra weapons such as various types of lasers, napalm missiles, reflex ring, and back beam can be collected as power-ups and equipped. In addition, special power-ups can be acquired, their effects ranging from slowing down enemies to turning the Metalion into an invincible drill-like machine for a brief amount of time. Boss battles are followed by optional mini-stages, which grant the player new weapons if completed successfully.
There are no images in this album yet
---
User Feedback