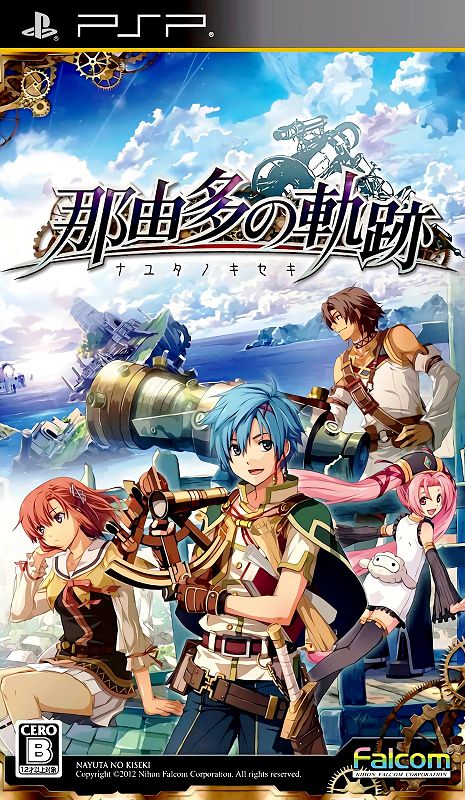 Console : Playstation Portable
Language :

Multiplayer : 1 player
Year : 2012
Developer : Falcom
Publisher : Falcom
Nayuta no Kiseki is an action RPG that doesn't continue the existing Kiseki game series, drops out The Legend of Heroes title prefix and creates a whole new world and characters with a whole new Kiseki game. The protagonist of the story is Nayuta Herschel, a young man whose hometown, Remnant Island, is a part of Lost Heaven world. Nayuta's passion is astrology and his aspiration is to go into the world and explore as much of it as he can, solving the world's mysteries on his journey into the unknown. For some time now, a strange phenomenon is occurring around the Remnant Island, shooting stars and debris are falling from the sky and into the surrounding sea. In one of the latest incident, a huge chunk of debris falls not far off the island coast, and Nayuta, along with his friend Signa, goes into what seems like a fallen tower to explore it. Inside they find Noi, a pink-haired fairy-tale who teams up with Nayuta. This fateful meeting is just the beginning of their long and mysterious journey together. When you are not adventuring around exploring lands and towns, visiting shops or talking to other characters, you will find yourself engaged in battle with random enemies and eventually bosses. Basic actions during battle are sword skills, art of magic, and gear craft which gives you special abilities.
Further information :
Translation version 4.15

Translation team:

- Flame
- SkyeWelse
- naachan
- Kelebek
- CUE
- zero_g_monkey

Thanks to them.

Game files

Nayuta no Kiseki 2018/05/10 505.70MB

There are no images in this album yet
---
User Feedback