Mojib Ribbon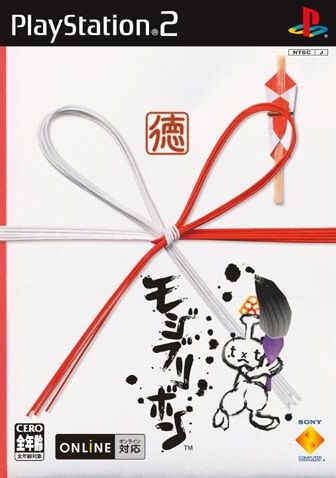 Console : Playstation 2
Language :

Genre : Music
Multiplayer : 1 player
Year : 2003
Developer : NanaOn-Sha Ltd
Publisher : SCEI
Mojib Ribbon is the psuedo-sequel to Vib Ribbon. Instead of being based around the tone of your music, it revolves around lyrics and rap. The protagonist, Mojibri, wants to become a famous rapper. You assist him in this as he raps his way through various stages. Along the way, Mojibri meets two other characters - a girl called Mojiko, and a robot called Osorezan. Although they look different, gameplay is all the same. You only use up and down on the Right Analog Stick for all control.

In each level, Mojibri will be walking along a circle of clouds. Gameplay is similar to writing with a pen - you need to lift your brush (by pressing up) to get ink, then press down just as you walk on markers that are on certain parts of the clouds. This will start Mojibri writing, and he will read out what he's writing as he does so. You then need to let go of the Analog Stick at the end of the sentence to finish it properly.

As with other Nana On-Sha games, timing is the key. Press or lift your brush too early, and the writing becomes scratchy. Too late, and it's all blotchy. The game itself is fairly simple and straightforward, but it has a real artistic flair, and the program used to read out the Japanese text is very accurate. If you write your name in katakana for the name entry screen, you'll hear it read by Mojibri every so often in-game, too.
There are no images in this album yet
---
User Feedback