Kessakusen! Ganbare Goemon 1+2: Yuki-hime to Magginesu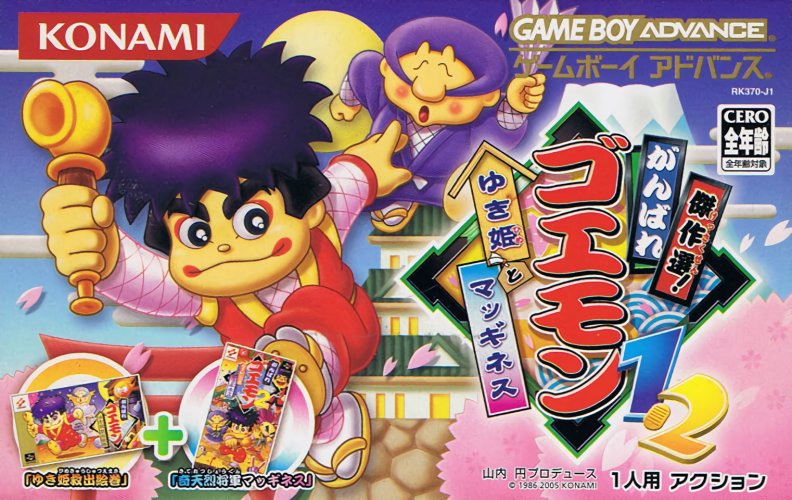 Console : Gameboy Advance
Language :

Genre : Action - Compilation - Platformer
Multiplayer : 1 player
Year : 2005
Developer : Konami
Publisher : Konami
Weekly games : 1

A port of the SNES adventure/platformers Legend of the Mystical Ninja and its sequel, Ganbare Goemon 2: Kiteretsu Shogun Magginesu for the GBA. In both games you play as the wily Goemon, a wacky adventurer from feudal japan, as he attempts to fight evil across the land.

Both games are action platformers, with the unique addition of several mini-games and different gameplay sequences to mix things up a little. Goemon (and his pal Ebisumaru in the sequel) can use a wide variety of weapons and items, which can be collected in-game or bought at special stores.

For the GBA version both games have been updated with a save-game feature, as well as with minor fixes and additions (such as the ability to switch characters on the fly). There's also a new playable character for the second game, new graphic effects and new mini-games which once unlocked can be played directly from the main menu.

Ganbare Goemon: Yukihime Kyuushutsu Emaki:
Goemon and Ebisumaru are enjoying themselves at home, when they hear about strange spirits sighted at the temple and taking control of the other villagers. Concerned, that a new evil has appeared, the two set out to confront it at the temple. This is just the beginning of a new adventure that will take them Goemon and his partner all across Japan; into moutain villages, amusement parks, castle fortresses and more!

Ganbare Goemon 2: Kiteretsu Shougun Magginesu:
Again, you control Goemon, his friend Ebisu-Maru and, new to the bunch, robot Sasuke, through loads of action stages and villages. Another new feature comes with 3D boss fights, featuring the giant mech type robot called "Goemon Impact".
There are no images in this album yet
---
User Feedback