Ibara
1
Download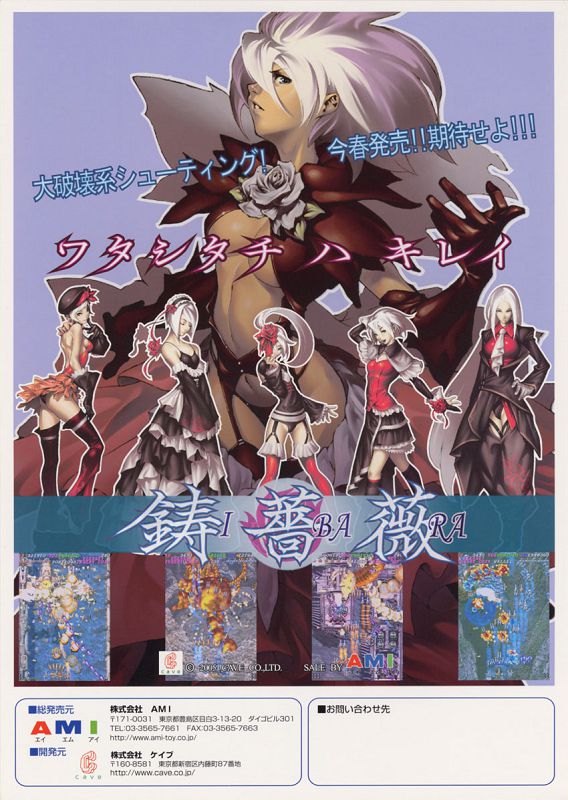 Console : Arcade
Genre : Shoot'em up
Multiplayer : 2 players
Year : 2005
Developer : Cave
Publisher : AMI
Popularity : 6

Ibara is a vertical scrolling shoot 'em up. The back story revolves around a group of sisters, led by Professor Teresa Rose, who want to destroy all technological progress in the land of Edelweiss, essentially turning it into a rose garden. Players can choose to either lead the characters Bond or Dyne and their airplanes through several levels of "bullet hell"-style gameplay in an attempt to defeat the sisters.
The player's weapons arsenal consists of a main gun and bombs. Bombs must be collected in fragments, and once the player has all of them, the Hadou Cannon can be used. Staying behind the cannon will make the player invincible for the duration of the effect. Additionally, enemies drop various "options," up to two of which can be attached to the wings of the plane to further increase fire power.
The game has a ranking system. If the player does really well, they go up in rank and thus boss battles will be a lot harder. Rank can be strategically decreased either by dying or by collecting roses, which are created from enemy bullets when the player sets off a bomb. Scoring works by collecting gold medals dropped by destroyed enemies. They must be quickly collected to keep up a scoring chain. Once a new medal pops up, and the medals on screen already haven't been collected yet, the chain is broken.
Further information :
The game only works with the new version of MAME present in the new version of RomStation 2.0 along with Demul.

There are no images in this album yet
---
User Feedback