Futakoi Alternative : Koi to Shoujo to Machine Gun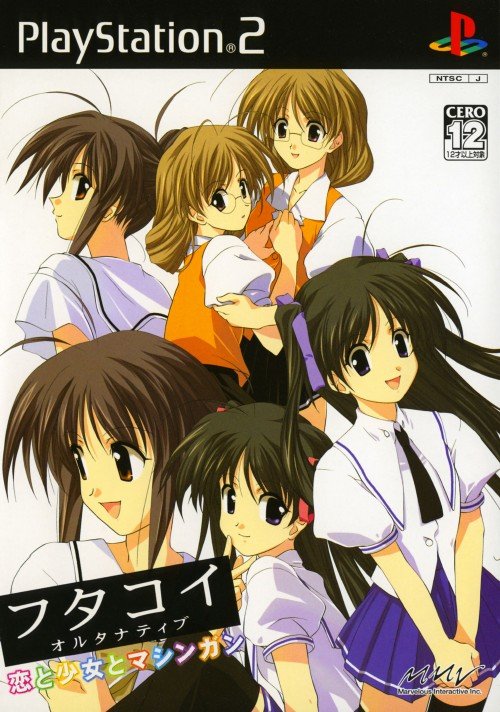 Console : Playstation 2
Language :

Genre : Visual novel
Multiplayer : 1 player
Year : 2005
Developer : Marvelous
Publisher : Marvelous
Futakoi Alternative (aka Twin Love Alternative) is a spin off of a TV anime with the same name. As the title implies, Futakoi Alternative is an alternate version based on the original Futakoi TV anime and video game. While some characters are recurring, the setting and everything is completely different, like an alternate version of the overall story (think parallel universe where base is the same, characters are the same, but everything happens differently).

The story focuses on Rentarou Futaba and his detective agency. One day, a pair of twins, Sara and Souju Shirogane, appear at his place and start working as his secretaries at the agency. But Sara and Souju are by far not the only twin sisters that appear in the game. Unlike most of static visual novels, Futakoi Alternative includes a couple of quick-time modes during the adventure part of the game where you have to press the right button before the time runs out. The game also includes CG and BGM player in the extras section of the main menu.

Based on Japan's late night anime program, this Futakoi expands on the series for a storyline that follows six twin pairs instead of the show's main pair. Each scenario has two different routes, known as "Burn" and "Bud." Gameplay is centered on interactive dialogue. The game makes use of what Marvelous calls the Reaction System, where key points in the story require that you press buttons in accordance with on-screen prompts. Also debuting is the Hustle System, where you make decisions about your path under the constraint of time.
---
User Feedback