Dioramos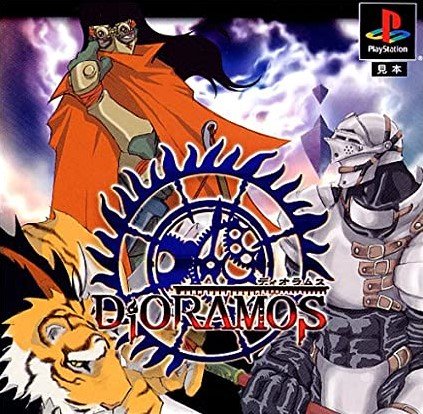 Console : Playstation
Language :

Genre : Board game - Strategy - Tactical
Multiplayer : 4 players
Year : 2000
Developer : Ponos
Publisher : Ponos
Dioramos is an original fantasy board game where players eliminate opponents using weapons and special attacks. The player's character can also gather better weapons and items on the board to use against his opponents. The winner is the last surviving player.

Once a player dies, a turn later they may return to haunt the map once again as a ghost. As a ghost, the player may not be harmed in any way. But, they are not affected by the squares that they land on, nor may they use items or weapons or even attack. But, if they land on the same square of another living player, they will curse them. If a player is cursed for the third time by a ghost, the ghost is destroyed with the player.

There are four different types of character status besides the normal one: Poison, Paralysis, Curse or Blindness

The game features 2 modes:

- Story mode: This is a one-player series of battles against various opponents. First, choose your character and then you will see the map select screen, with save on the right. After completing Story mode with that character, you can access them in Battle and Story modes.

- Battle mode: Battle mode is for one to four players. You can choose any map that you have bought from the shop. You can use any of the characters that you used to beat Story mode or any of the original four. Any of the items and weapons that you bought from the store can also be found here.

At the end of each completed map in Story mode, the player's character receives gold, that can be used to buy items, weapons and maps to use in Story and Battle modes.
There are no images in this album yet
---
User Feedback