Demolition Man
Download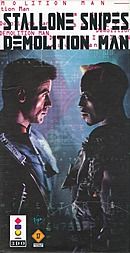 Console : 3DO
Language :

Genre : Action
Multiplayer : 1 player
Year : 1994
Developer : Avalon Interactive
Publisher : Virgin Interactive
Popularity : 5

Finally! The power of 3DO. The action of a hit movie. The challenge of a video game. But deeper. And better. Because this time, you control the outcome of a real movie. With real stars Sylvester Stallone and Wesley Snipes, real suspense and real challenges that demand real skill. Actually control cinematic-quality live action footage of Stallone as the Demolition Man in a game that merges movie and video footage so smoothly you'll feel plunged into the movie itself. Contains never-before-seen footage of Stallone and Snipes filmed especially for this interactive adventure.
---
Related articles and videos
---
Retour utilisateur