Crash & Spyro Superpack Volume 2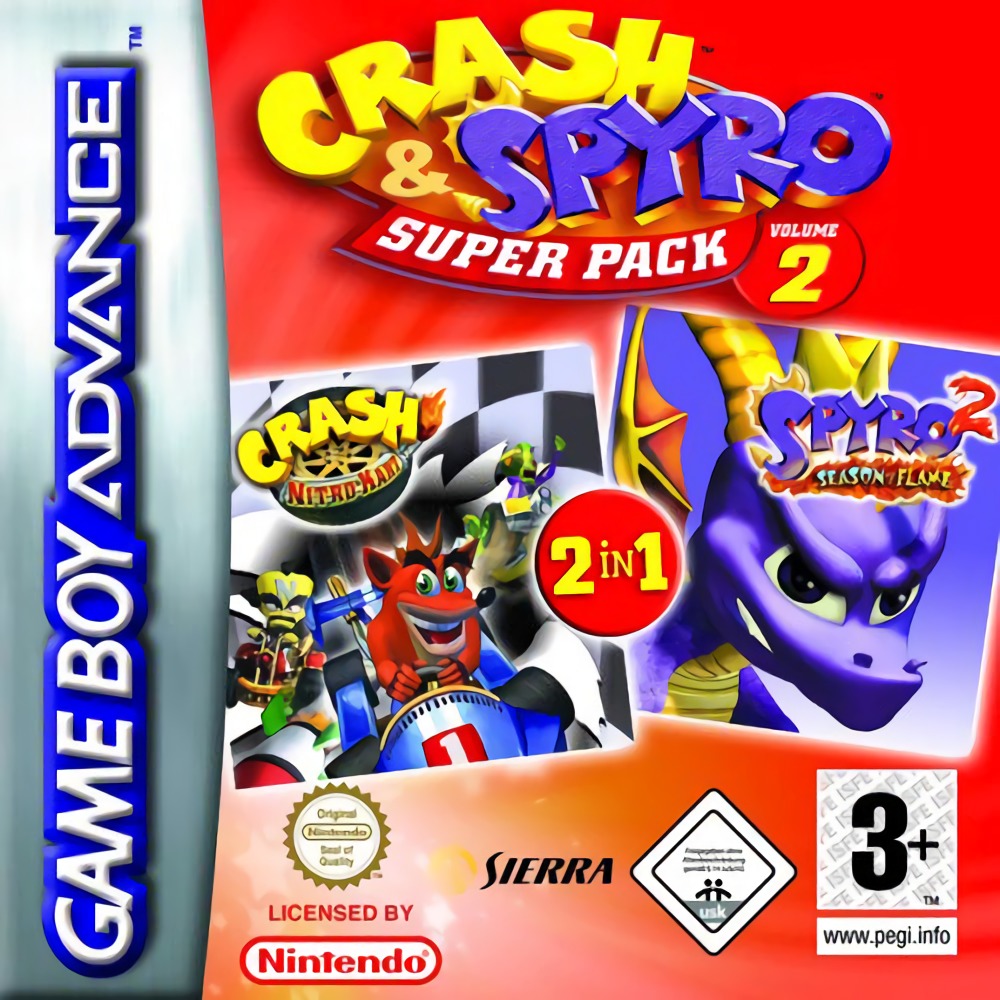 Console : Gameboy Advance
Genre : Racing - Compilation - Platformer
Multiplayer : 4 players
Year : 2005
Developer : Vicarious Visions & Digital Eclipse
Publisher : Vivendi Universal
Weekly games : 2

Crash & Spyro Superpack Volume 2 is a game pack containing Crash Nitro Kart and Spyro 2: Season of Flame. It was only released in Europe.
Crash Nitro Kart :
- Crash Bandicoot returns to the karting scene with a host of other characters from the adventure series, and this time they have both Neo Cortex and Emperor Velo to worry about. Velo has taken the crew to a remote planet, forced to race for their lives against Neo Cortex and his many evil doers.
Choose from various game modes, from the straight into the action Arcade mode to Adventure mode, following Crash and the gang in the story to save Earth. Race against four friends in multiplayer battle modes, plus connect to the Gamecube for extra options and upload your high scores to the internet ranking system.
Spyro - Season of Flame :
- The Gameboy Advance sequel to Spyro: Season of Ice sees Spyro the dragon once again journeying through multiple worlds, this time in search of fireflies (which give dragons their fiery breath) which have been stolen by the Rhinocs.
All the old characters from previous games are there, with Hunter and Bianca, and the player can also control Sheila the Kangaroo and Agent 9 (who is a mildly psychotic monkey).
Spyro has a few unusual abilities in this GBA game, including a fire/ice breath toggle - some items can only be affected by one or the other.
Unlike the PSX games, Spyro is presented primarily in an isometric view.
There are no images in this album yet
---
User Feedback