Crash & Spyro Superpack Volume 1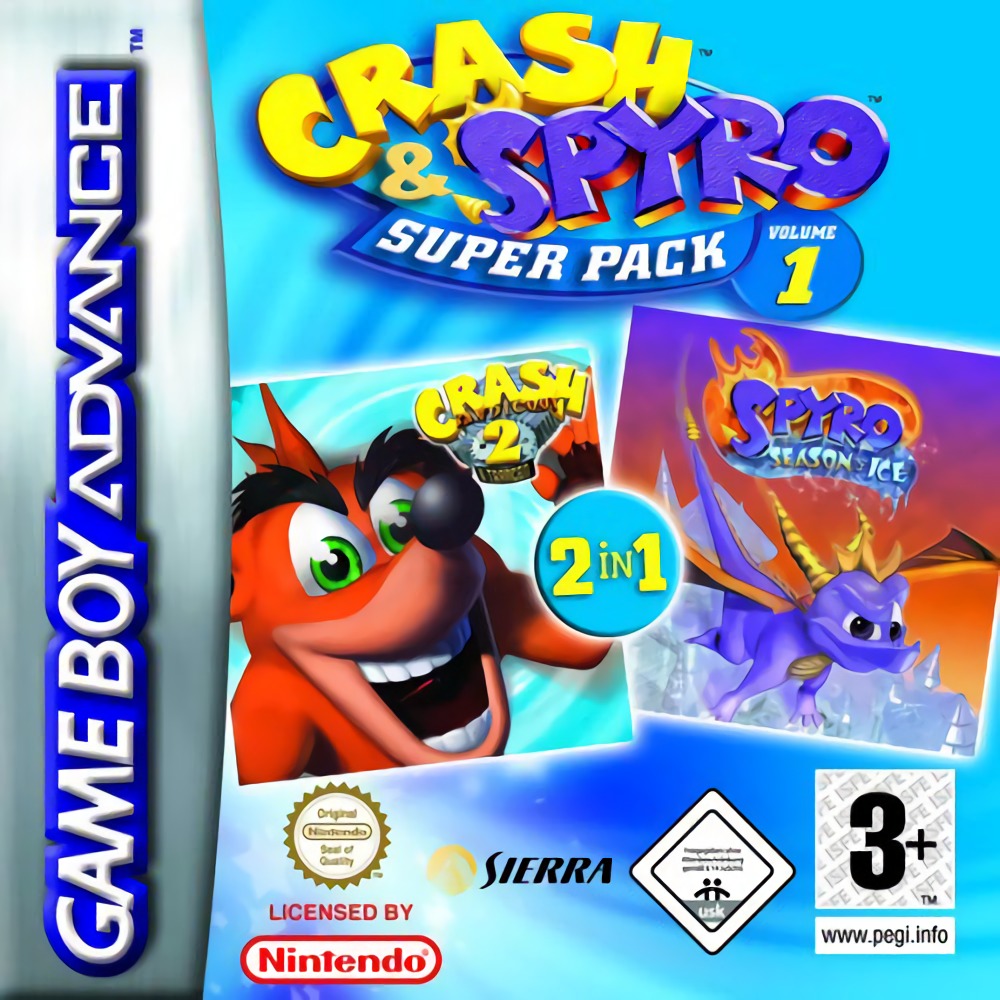 Console : Gameboy Advance
Genre : Action - Compilation - Platformer
Multiplayer : 1 player
Year : 2005
Developer : Vicarious Visions & Digital Eclipes
Publisher : Vivendi Universal
Weekly games : 1

Crash & Spyro Superpack Volume 1 is a game pack containing Crash Bandicoot 2: N-Tranced and Spyro: Season of Ice. It was only released in Europe.
Crash Bandicoot 2 - N-Tranced;
- After returning the world to normal size in Crash Bandicoot: The Big Adventure, Crash must return to action to save his comrads, abducted by the evil mask Uka Uka and Dr. Nefarious Tropy. In turn, they accidently kidnap the evil Crash Clone, thinking it is Crash himself. So the crazy bandicoot must tackle all three evil beings in order to return his friends to safety.
Along with the same 2D platforming and 3D style chase sequences from the original GBA release, Crash has a new game to play: Atlasphere. A combination of Marble Madness and Tony Hawk 4 GBA, Atlasphere has you guiding Crash in a ball around flatlands and half pipes, pulling tricks and collecting items from the crates.
Spyro - Season of Ice:
- Spyro the dragon returns for his first adventure on the Game Boy Advance. This time, Grendor has turned all of the fairies of the Dragon Realms into ice blocks, sending out his band of Rhynoc warriors to collect them, and use them to stop his headache. Only the fire power of Spyro, with Hunter and Sparx on hand to help, can save the fairies from a certain Panadol future.
Unlike the Playstation series, Seasons of Ice has the player controlling Spyro through an isometric overhead camera. However, all of Spyro's skills are still available to use, including his flame breath and glide. And the flying bonus levels (similar to that of the original Sonic series of bonus levels) make use of the Mode 7 technology in order to create the 3D like perspective (as used in Mario Kart: Super Circuit and F-Zero: Maximum Velocity).
There are no images in this album yet
---
User Feedback