Casper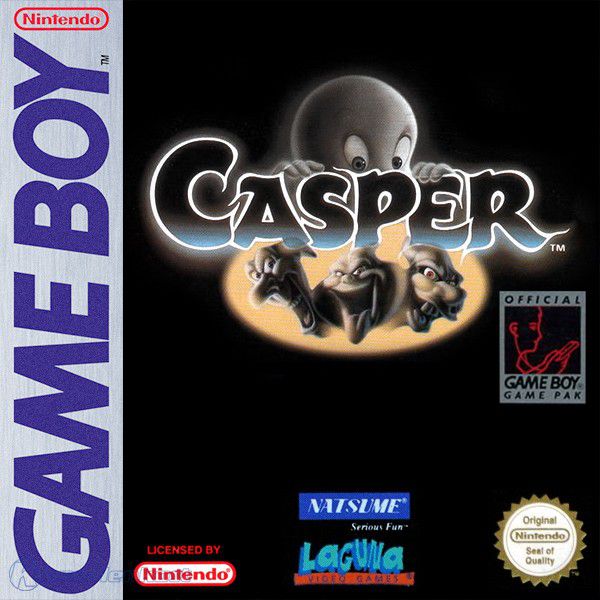 Console : GameBoy
Language :

Genre : Action
Multiplayer : 1 player
Year : 1996
Developer : Bonsai Entertainment
Publisher : Natsume
Casper is a mini games collection based on the 1995 movie of the same name. Casper is a ghost with three evil uncles, who have turned the dad of Casper's human friend Kat into ectoplasm. The goal is to bring him back to the living. There are six different mini games:

Protect the Ooze: The player has to protect the Ooze containers stationed at the bottom of the screen. Casper's uncles come flying from the top of the screen and have to be shot with the crosshair before they can damage the containers. The game ends after a certain amount of time has passed.
Ooze Runner: There are four floors which can be reached by climbing ladders. On each floor is an Ooze container which needs to be collected. However, the uncles patrol the floors and their touch needs to be avoided. After enough Ooze has been collected, a flag appears on the top level which needs to be touched to end the level. This has to be accomplished within a time limit.
Return the Books: One of the uncles drops books from the top of the screen and the goal is to prevent them from falling on the floor. Casper can transform into a trampoline which is used to bounce the book to a collecting container on the left of the screen. Occasionally Ooze vials will appear which need to be collected in order to win the mini game.
Puzzles: Here the player has to construct a machine, e.g. one which automatically cooks breakfast, by switching a few items into the correct order.
The Up and At 'Em Machine: Casper has to push Kat, who is sitting in a mining cart, left and right in order to avoid chains and ghosts.
Casper Says: A simple Simon Says variant.



In order to complete the game, the first four mini games have to completed three times with increasing difficulty, after which the fifth and sixth come into play. After completing those two, the player will face the last challenge: a final Ooze Runner game.
There are no images in this album yet
---
User Feedback