Agent Hugo: RoboRumble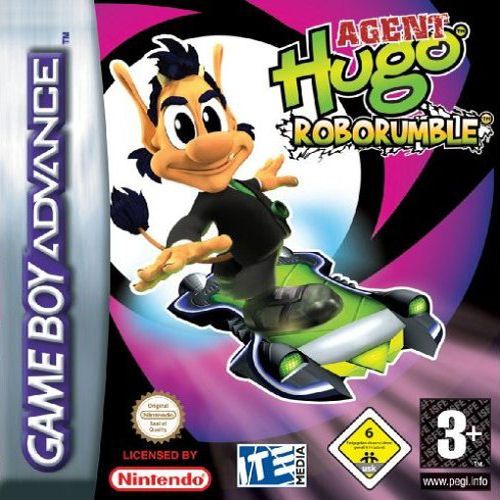 Agent Hugo: RoboRumble is an action game starring Hugo the troll, here part of the Agent Hugo science fiction reboot first introduced in 2005. Agent Hugo needs to take on Geekdorph who threatens the world. He is a scientist who inserted his own brain into a robot and he is now the lord of a robot army. Agent Hugo needs to infiltrate his robot factory using Tex 2000, a futuristic hoverboard.

In 2D-sidescrolling levels Hugo moves at a fast speed and can move vertically between lanes to pick up items or avoid hazards. He is always on top of the hoverboard and he can shoot, jump and activate a shield device. Tricks can also be performed while in the air.

A mission is completed when the end of the track is reached. The game keeps tracks of the completion time, the score based on item pick-ups and the number of kills. Lanes often have gaps that need to be avoided. There also jump pads and arrows that provide additional speed. The HUD shows the passed time, total score, current speed, track completion percentage and number of kills. A retry is provided for every death and a password is provided when a mission is completed.
There are no images in this album yet
Related videos
---
User Feedback