Tom and Jerry - The Movie
Downloads
Tom and Jerry - The Movie 2010/11/05 111.48KB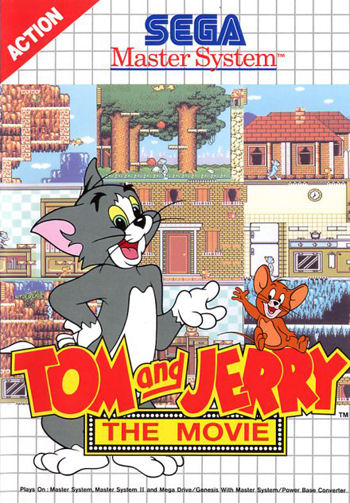 Console : Master System
Language :

Genre : Platformer
Multiplayer : 1 player
Year : 1992
Developer : Sims
Publisher : Sega
Weekly games : 3

As in the popular cartoon series, Tom the cat is once again after that little mouse Jerry. The player plays as Tom, a curious cat who will do anything to get his paws on that trouble-maker mouse, Jerry. Tom tries to catch Jerry as he runs through six different levels. Starting in the Kitchen, Jerry will lead Tom through the Garden, Down Town, the Forest, Rock Mountain, and finally ending up in the Nursery.

Jerry will do anything he can to keep Tom from snagging him. Even if that means running through dangerous areas. Tom must try and dodge tail-scorching stoves, dropping flower pots, falling boulders, and even climb skyscrapers and swim underwater all while trying to nab that rascally rodent. Not only that, Jerry will also throw bombs and leave land mines in Tom's path.

Be careful, if Jerry gets too far ahead and out of site, the game is lost. But, if Tom is able to get close enough, he can pounce on Jerry resulting in an advance the next level. The next level can also be reached to by chasing Jerry to the end of the round where he will be cornered. There are also damage points that are taken away from Tom as he is hit by the number of dangerous environments around him. Too many hits will also result in a game over. It is just another hard days work for Tom the cat!
There are no images in this album yet
Related videos
---
User Feedback