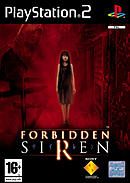 Multiplayer : 1 player
Year : 2004
Developer : Sony
Publisher : Sony
Weekly games : 2

Siren is a Japanese survival horror game which takes place in a small town where almost all of the people were killed.

A siren in the small Japanese village of Hanuda suddenly turns its inhabitants into shibito, zombies bent on turning everybody else into shibito.

The player alternates gameplay between ten different characters trying to avoid the shibito. It's like a puzzle. The player has to learn the shibitos' patterns and learn to avoid getting seen, as all of the characters have very low maximum health. The player can also sightjack other characters and shibito to see from their point of view.
There are no images in this album yet
Alternative versions
User Feedback