3
Daytona USA 2: Battle on the Edge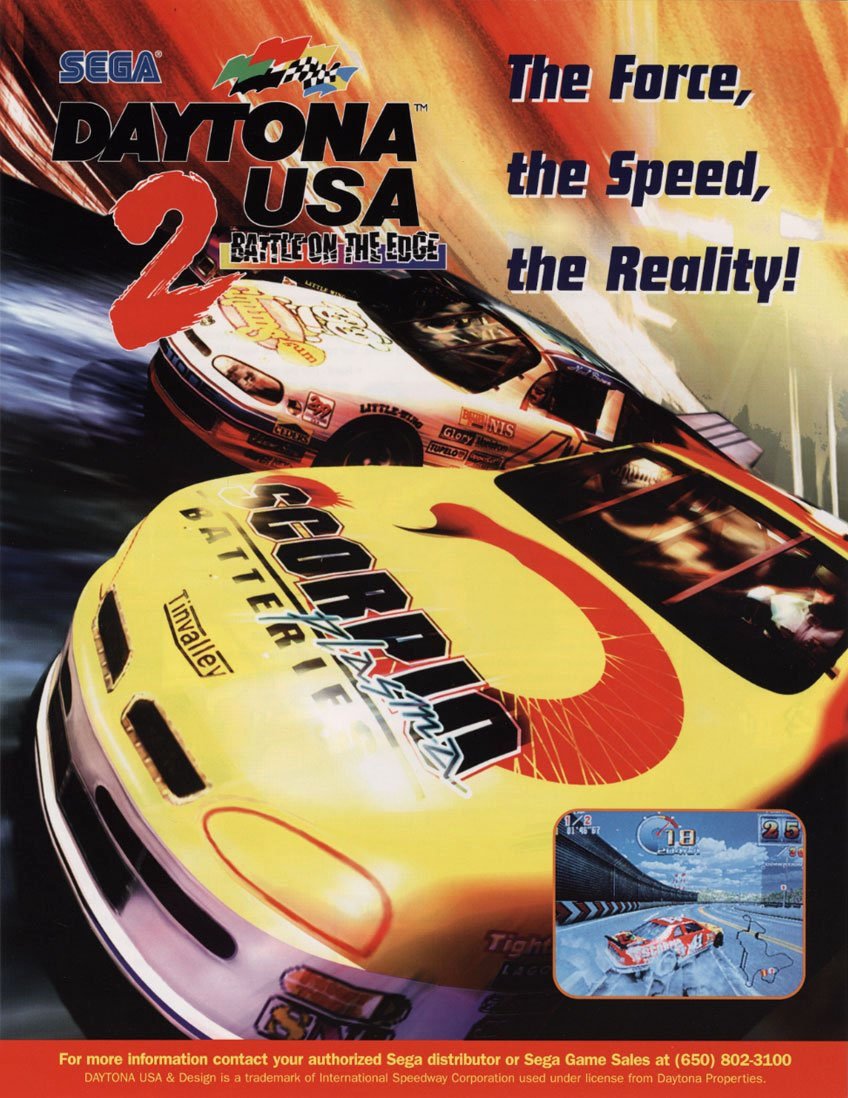 Console : Model 3
Language :

Genre : Racing
Multiplayer : 16 players
Year : 1998
Developer : Sega AM2
Publisher : Sega
Weekly games : 3

Daytona USA 2: Battle on the Edge is an arcade racing game released by Sega in 1998 as a follow-up to the extremely successful Daytona USA. The game featured vastly superior graphics, utilizing the Sega Model 3 hardware. The majority of Daytona USA 2 cabinets were released as deluxe models (with far fewer Twin Cabinets), which could be linked together for up to sixteen players. A notable change from the original is the ability to select a car and corresponding driver, each with varying capabilities for varying levels of player experience. Just like before, the game has three courses – a Beginner course with 8 laps with a distance of 1 mile (1.6 km), an Advanced course with 4 laps with a distance of 2.5 miles (4 km), and a long Expert course with 2 laps with a distance of 5 miles (8 km). The 'time lap' mode also returns, and is accessed in the same manner – by holding down start at the transmission select screen. Like the original game, mirrored versions of the tracks can also be played by holding down the Start button when selecting the course. It is recommended, however, that the player has had mastery of the course beforehand. By request, an arcade operator could put the game on Grand Prix or Endurance mode to increase the number of laps in a game. Finishing a race in the top 3 in any course allows the player to view an "ending" and see the game credits.

An addition to the game was the "slingshot", corresponding to advanced NASCAR drafting techniques. There are no direct home ports of Battle on the Edge and Power Edition. Originally, Daytona USA 2 was planned to be released on Sega's Dreamcast system according to game magazines, however plans for this fell through and Daytona USA 2001 took its place, serving both as a remake to the original game and implementing some aspects of Daytona USA 2 in the process.
Further information :
To pass the error screen "Network board not present":
Number key 6 > Number Key 5 to navigate, 6 to validate > GAME ASSIGNEMENTS > LINK ID = "SINGLE" > EXIT.

There are no images in this album yet
---
User Feedback