FAQ
What is RomStation?
RomStation is a simple and intuitive interface facilitating the emulation of many game consoles. You can find more information on this page.
Download a game on RomStation
After installing RomStation, go to the online page of a game via the software's built-in browser. Then click on the "Download" button that appears on the game record, as shown in the screenshot below.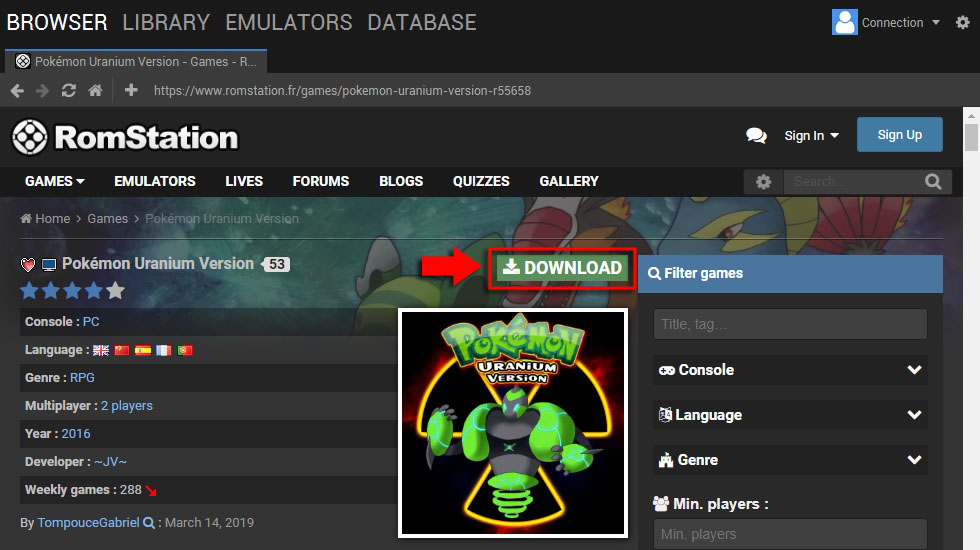 Premium Subscription issues
For any problems related to the Premium subscription, please open your request via the support form.

In the case of an uncredited purchase, consider specifying the transaction number and the transaction date.
Delete Account
If for any reason you no longer wish to keep your RomStation account, please submit your request via the form accessible from this page.

A legitimate request must be made with the account you want to delete. If you can not identify yourself with the account concerned to confirm your identity, your application will unfortunately be ignored for obvious security reasons.

Finally, note that the Premium access associated with the account will be permanently lost.
Technical issues
For help with any technical problem, please use the appropriate forum.

Before posting a message, check first if you have not already answered your question on another topic, or if the topic has not already been addressed. You will find without difficulty (top right) a search engine that will facilitate your investigations.

To get an effective and fast response to your questions, make it easy for other users. Think of writing a sufficiently explicit title and avoid formulas such as "help", "need help", "help", etc. An explicit title will allow people who can help you not to miss out on your topic.
Contact an administrator
To contact an administrator, please use the form accessible from this page.

For help with any technical problem, please use the appropriate forum.