Yu-Gi-Oh!: Forbidden Memories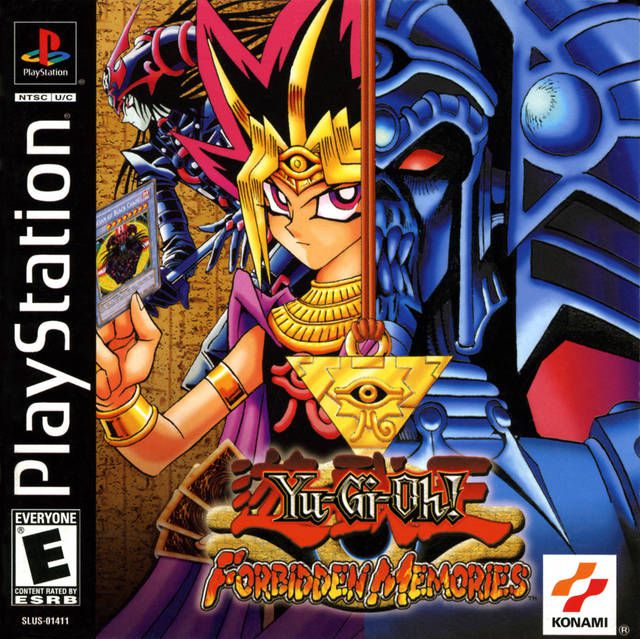 Console : Playstation
Language :

Genre : Card game
Multiplayer : 2 players
Year : 2002
Developer : Konami
Publisher : Konami
Weekly games : 1

Based on the popular anime series, Yu-Gi-Oh!: Forbidden Memories casts you as on of Yugi's ancestors who must travel to ancient Egypt and solve the mysteries of the Shadow Game and the seven magical totems. You must travel throughout the land talking to townspeople, performing tasks and of course, duel several opponents in order to gather up knowledge of impending doom threatening your kingdom.
The game follows the rules of the Duel Monsters card game, the player battling AI-controlled opponents. Each player possesses a 40-card deck, filled with cards that represent creatures, items, spells, and powers. The players take turns drawing a hand of five cards. Cards can be fused together and player in different combinations, which allow more powerful moves. Depending on the player's performance, special star chip points are acquired, which can be used to purchase real-world Yu-Gi-Oh! cards, and use them in the game by inputting their code numbers and a password.
Based on the hit animated television series, the story unfolds in ancient Egypt; where mystery and magic abound. As an evil High-Priest sets his sights on destroying the kingdom, it is only the young pharaoh, an ancestor of Yugi, who can unlock the mysteries of the Seven Magical Totems and save his land. Players must duel with the townspeople to collect cards, decipher clues and solve puzzles in an effort to become the greatest Duel Master of them all!
Yu-Gi-Oh! Forbidden Memories is a role-playing game set in ancient Egypt and based on the popular Japanese card game and animated series. Players take the role of a young Pharaoh to interact with other characters and solve mysteries. The hero can challenge other players to duels, which take place on three-dimensional battlefields. The game features over 500 monsters, all rendered and animated in 3D. Play is based on the Duel Monsters OCG Expert Rules.
Features:
-RPG story mode featuring a side-story to TV series
-Full 3D playing field
-Over 600 fully animated monsters rendered in 3D
-Import cards from the official Trading Card Game
Further information :
This game has better compatibility with the ePSXe emulator.

There are no images in this album yet
Related videos
---
User Feedback