Ys vs. Sora no Kiseki: Alternative Saga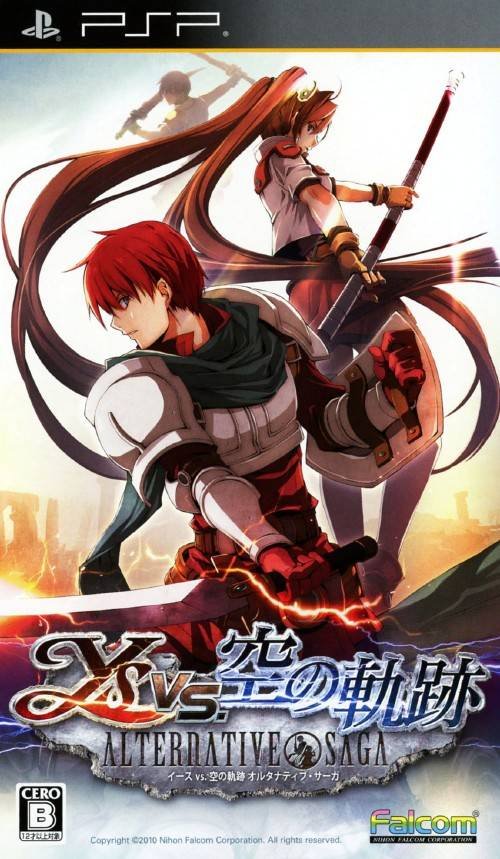 Console : Playstation Portable
Language :

Multiplayer : 4 players
Year : 2010
Developer : Falcom
Publisher : Falcom
"Ys" and "The Legend of Heroes: Sora no Kiseki", two major RPGs have finally realized an alternative (unconventional) collaboration!
Is it an enemy or an ally standing behind...!??
[] A dream competition between the two major titles "Ys" and "The Legend of Heroes: Sora no Kiseki" has finally come true!
The characters from the two major RPGs "Ys" and "The Legend of Heroes: Sora no Kiseki" presented by Nihon Falcom collide beyond the boundaries of the series!
It is now possible to freely enjoy battles with popular characters and strong enemies of the successive series that could not be realized until now!
[] An exhilarating battle system that has evolved to the limit with "Ys 7" + "Jump Action"!
High-speed battle with evasion and guarding, which was well received in Ys 7.
In addition, in this title, a new jump action is added, based on the same battle system!
A more three-dimensional action that takes advantage of the height difference creates a feeling of exhilaration on the vast battlefield!!!
[] Complete full voice acting by super luxurious cast! The talented cast members who appeared in the "Ys" and "Sora no Kiseki" series have been appointed to make the game complete with full voice acting!
In the scenario mode, you can enjoy the interaction between the characters voiced by the enthusiastic cast members, and all battle voices are newly recorded specifically for this title! Making the player's battle blaze even hotter!!!
Cast: Takeshi Kusao / Tetsuaki Genda / Kentaro Ito / Akemi Kanda / Mitsuki Saiga / Hikaru Midorikawa / and many others
[] A variety of battle formats such as scenarios and free play are available!
In addition to the scenario mode in which an original story develops for each selected character, Battle mode allows you to freely customize opponents, maps, BGM, etc. Each play mode is equally fulfilling!
[] BGM with over 150 songs! Includes a number of Falcom battle songs!
In addition to popular battle songs of each series such as "Gin no Ishi" and "Valestein Castle" New songs and new arrangements are also available just for this title. The number of songs is more than 150, unprecedented!
In addition, a popular song used in a series other than "Ys" and "Sora no Kiseki"...!??
[] Customize your character as you like!
Use the points earned in each play mode to customize character levels, equipment, skills, support characters, etc. as you wish!
Train your favorite characters thoroughly and challenge ad hoc battles!
[] Ad hoc mode support allows up to 4 simultaneous battles!
Supports ad hoc mode, allowing up to 4 players to play at the same time!
You can challenge a one-on-one gachinko game between experts, or you can set up a one-on-three super handicap race.
How to play in battle changes infinitely depending on the player!
[] Enjoy the story with full voice acting! Select your favorite character from the displayed characters in Story Moded, where many characters fight according to the scenario!
Set in a different world "Xanadu" the mysterious creature "Rappy" appears as a guide who helps the player to defeat the Demon King Garcis.
An original story awaits!
[] Aim for the strongest character by developing equipment and skills! Weapons and armor of each character can be strengthened in exchange for the consumption of [Mona points] obtained in battle!
In addition, the performance of skill attacks will improve steadily by consuming [Mona Points] as well!
[] Equipped with "Material Collection" mode which includes super-rich content!
In addition to 100 wallpapers and custom themes, a lot of treasured cinematic scenes of titles released so far are included!
In addition, more than 150 masterpieces carefully selected from Falcom's successive works are also included!
Further information :
Thanks to GeoFront for this English translation.

https://geofront.esterior.net/2021/10/16/ys-vs-trails-in-the-sky-alternative-saga-is-out-now/

There are no images in this album yet
---
User Feedback