Xeno Crisis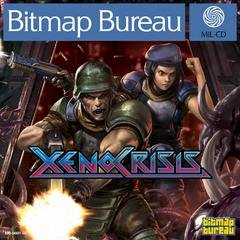 Console : Dreamcast
Genre : Action - Shoot'em up
Multiplayer : 2 players
Year : 2020
Developer : Bitmap Bureau
Publisher : Bitmap Bureau
Weekly games : 4

Xeno Crisis is an arena shooter that can be played solo or in local co-op mode. Take control of battle-hardened marines as they embark on a deadly mission to confront an alien threat and return home alive! Run and fight your way through thousands of opponents as you explore the devastated research outpost, searching for survivors and ultimately facing the source of the outpost's demise.
Outpost 88 is divided into seven distinct areas, each of which is randomly generated each game, meaning your strategy must evolve on the fly if you want to succeed in your mission. Collect dog tags from defeated enemies to upgrade your equipment between zones and look for special weapons that will give you a momentary advantage.
There are several weapons at your disposal, each with its own characteristics. While your standard pulse rifle is perfectly capable of taking out the enemy, other weapons can give you advantages in certain situations, so picking them up is generally advisable - don't run out of ammo!
As you progress through the colony, you will encounter many different enemies, each with their own traits and means of attack. Many of them can be shot down without much thought, but others will require the player to outrun them, attack them within a certain time frame, or be avoided altogether!
At the end of each area, you'll have the opportunity to trade the dog tags you've collected for upgrades ranging from extra health to weapon power-ups to additional enhancements. The upgrades you choose will depend on your play style.
Further information :
Homebrew Link : https://shop.bitmapbureau.com/products/xeno-crisis-sega-dreamcast-cd

There are no images in this album yet
---
User Feedback