We Love Katamari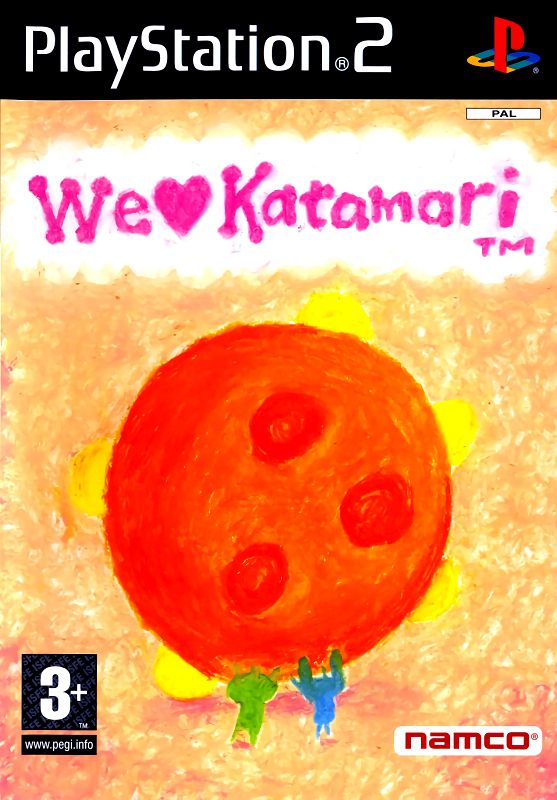 Console : Playstation 2
Multiplayer : 2 players
Year : 2006
Developer : Now Production
Publisher : Namco
Weekly games : 5

After the success of Katamari Damacy, the King of all Cosmos and his son, the Prince, have gained quite a bit of fame. To keep all of the fans happy, the Prince is once again sent to Earth to roll stuff up with a katamari (a clump of stuff); this time he's taking requests from the fans as to what should be rolled up!
The gameplay is the same as in Katamari Damacy; using both of the analog sticks you can push the katamari around. When the katamari runs over an object that is small enough, it will stick causing the katamari to grow in size. As the katamari grows, you'll be able to roll up increasingly larger objects. There are a variety of different objectives that need to be completed; some tasks will have you rolling up as much as you can within a time limit, others may have you rolling up a fixed number of objects as fast as can, and sometimes certain objects need to be avoided. Most of the missions take place in a large settings: such as a series of rooms, an open park and even complete cities. Special settings require the prince to roll up clouds to bring back the sun, or to collect lights so a young man can study.
As the katamari rolls around, it can pick up almost anything; umbrellas, desks, erasers, pencils, batteries, plants, beach balls, tea kettles, fences, assorted animals, people, buildings, trees, mountains, cars, and many other objects. Between levels there are short-cut scenes providing some back story on the Prince and the King of all Cosmos. All missions start from the meadow, a central location where animals and people call for help. The prince can choose to accept the mission or look for something else. Upon completion, the prince returns to the king and the katamari is sent into space as a planet, or as stardust when there already is a better or larger planet available.
To the end the game, the prince is transported to the cosmos to roll up all the planets and finally roll up the sun. In the meadow, players can view presents, rankings, collections, and change general options or save/restore a game. The game features all new unusual songs as well as a new two-player mode. The visuals are very bright, with unusual characters and conversations.
There are no images in this album yet
---
User Feedback