7
WarCraft II: Tides of Darkness - Edition Deluxe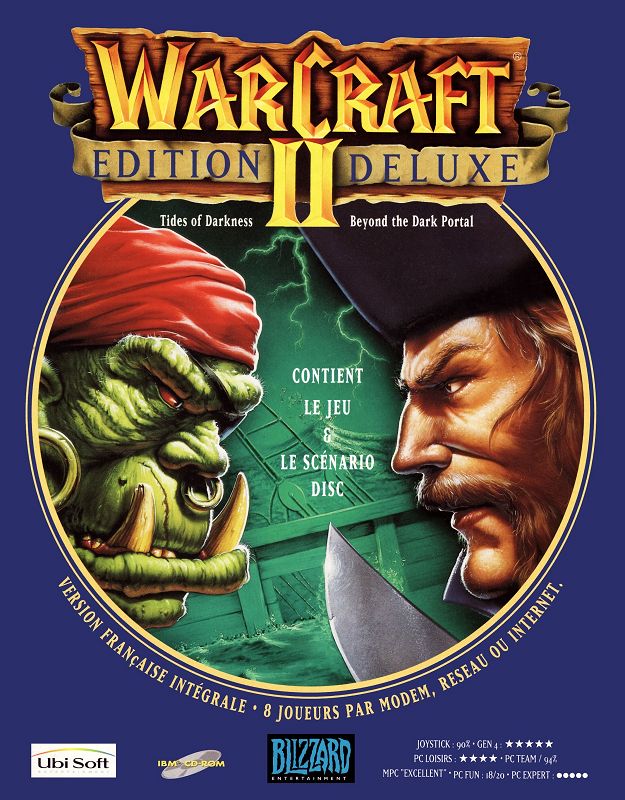 Console : DOS
Language :

Genre : Strategy
Multiplayer : 8 players
Year : 1995
Developer : Blizzard Entertainment
Publisher : Ubi Soft
Weekly games : 38

The battle chest holds a deep secret of a global range. A long and exhausting battle between Humans & Orcs is about to make a mark on your face, all across. Warcraft II collection lies in this chest, with a guide for a Battle.net Edition.
WarCraft II: Tides of Darkness: The battle for the kingdoms of Azeroth is long from being over. Now, six years after Human's and Orc's first encounter that didn't go quite diplomatically, Orcs are coming from sea and the air. Dragon units are burning city after city, Ogres are smashing unprepared enemy skulls, while Human Knights don't have time to put on all the armor. The war has just began, with the new tactics, and battle strategies to care.
WarCraft II: Beyond the Dark Portal: After destroying the mystic gate into Azeroth, the Humans discover that the rift which allows the Orcs passage into their world still exists. Human forces must now venture beyond the Dark Portal into orcish lands to put an end to the threat of yet another invasion by the hordes.
Further information :
The version we offer includes:
- the basic game: Warcraft II Tides of Darkness
- the official extension: Warcraft II Beyond the Dark Portal
- The unofficial extension: The Next 70 Levels (no campaign but a lot of 'scenarios').

Each campaign (Tides of Darkness and Beyond the Dark Portal) requires its own CD to play.
By default the game is set to start with the Tides of Darkness CD. To change the disc when prompted, simply press Ctrl + F4 (to be done with each disc change).
---
User Feedback