Virtua Fighter 10th Anniversary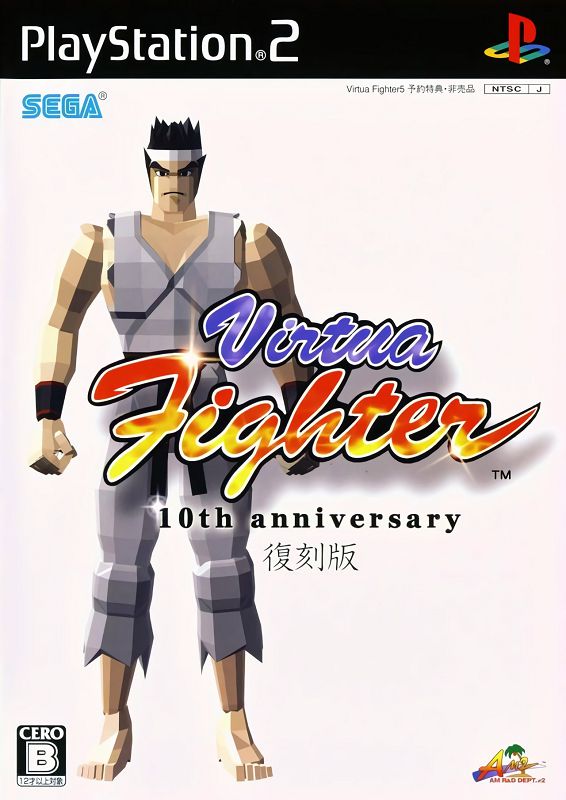 Console : Playstation 2
Language :

Genre : Fighting
Multiplayer : 2 players
Year : 2003
Developer : Sega AM2
Publisher : Sega
Virtua Fighter 10th Anniversary is a fighting game for the PlayStation 2, released around the same period of Virtua Fighter 4 Evolution. As the name suggests, it was designed to commemorate ten years since the release of Virtua Fighter.
While static screenshots suggest that 10th Anniversary looks like the original Sega Model 1 release Virtua Fighter, gameplay is more akin to Virtua Fighter 4: Evolution, being a generally faster and more fluid experience, albeit with fewer moves than what Virtua Fighter 4 offers. Many of the assets such as 2D elements, sound effects and voice samples are in fact lifted directly from Virtua Fighter 4: Evolution.
During a normal run of the game, players compete against the original cast of Virtua Fighter (sans Dural), before moving onto Virtua Fighter 2's Lion and Shun, Virtua Fighter 3's Aoi and the remaining cast of Virtua Fighter 4 and Virtua Fighter 4: Evolution. As with all Virtua Fighter games, Dural is fought at the end. Characters which did not exist in the original Virtua Fighter do not get their own stages, with the arenas instead being recycled.
The trademark "floaty jumps" from the original Virtua Fighter make a return, and as all the stages retain their flat appearance from the original game, there is a reintroduced focus on ring-outs.
Like all versions of Virtua Fighter 4, Virtua Fighter 3's Taka-Arashi is not included in the game and would not return to the series until Virtua Fighter 5 R.
There are no images in this album yet
---
User Feedback