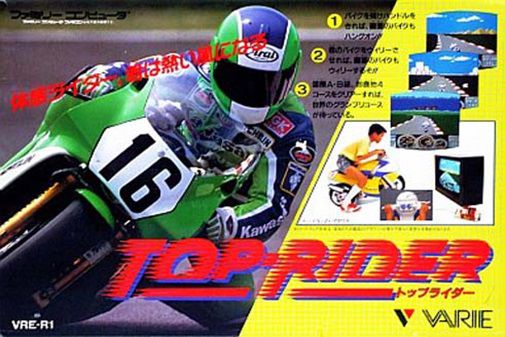 Console : NES
Language :

Genre : Racing
Multiplayer : 1 player
Year : 1988
Developer : Sonata
Publisher : Kaken Corp.
Popularity : 2

Top Rider is a motorcycle game in which the main objective is to basically make a decent or random time in each race.

To achieve a decent time the player must avoid getting off the track and colliding with the "endless" number of motorcycles that will appear and also with the posts or advertising signs. When the collision is unavoidable, the player will simply fall off. During competitive races the positions are not displayed on the screen or simply nonexistent, but once a course is finished the final standings screen (consisting of 20 names) will appear.

Modes available are "touring" and "grandprix". In touring, the player can select four scenes, while in grandprix there are a total of nine courses to overcome. The first four are from all around Japan while the other five are located in European countries such as Yugoslavia and Sweden.

The game was released along with a peripheral where the player sits on it and use the handlebars to control the on-screen motorcycle.
Il n'y a pas encore d'image dans cet album
---
Retour utilisateur