Tomoyo After: It's a Wonderful Life CS Edition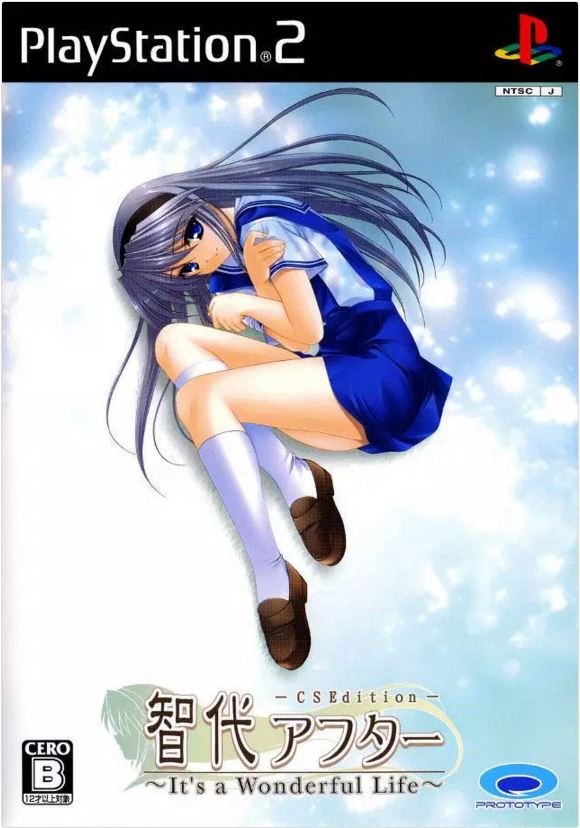 Console : Playstation 2
Language :

Genre : Visual novel
Multiplayer : 1 player
Year : 2007
Developer : Key
Publisher : Prototype
Tomoyo After: It's a Wonderful Life CS Edition is a Japanese visual novel developed by Key and published by Prototype which came out January 25th, 2007 on PS2. It's a port of the game of the same name on PC. It's the sequel of Clannad.
Tomoyo After is a romance visual novel in which the player assumes the role of Tomoya Okazaki. Much of its gameplay is spent on reading the story's narrative and dialogue. Tomoyo After follows a branching plot line with multiple endings; depending on the decisions that the player makes during the game, the plot will progress in a specific direction.
Throughout gameplay, the player is given multiple options to choose from, and text progression pauses at these points until a choice is made. To view all plot lines in their entirety, the player will have to replay the game multiple times and make different choices to bring the plot in an alternate direction. Additional gameplay in Tomoyo After is a minigame called "Dungeons & Takafumis", which gives the player chances to play in a role-playing video game setting. "Dungeons & Takafumis" becomes available to play after the game is completed once.
Tomoyo After's story revolves around Tomoya Okazaki, the male protagonist from Clannad, and Tomoyo Sakagami, one of the main heroines of the same game and the title character of Tomoyo After. Tomoya has already completed his first year of being a full-fledged member of society; he works as a garbage collector and a repairman. Initially, he is living in an apartment alone, as opposed with living with his father Naoyuki Okazaki with whom he does not get along well. Tomoya still has a close friendship with Tomoyo, who has her story expanded upon than what was seen in Clannad. She has stayed in touch with Tomoya and they are starting to see more of each other in a romantic relationship.
The story takes place a month after the events of Clannad during summer vacation after Tomoya has graduated from high school; he is still in the same town Clannad was set in. One day it is discovered that Tomoyo has a younger half-sister named Tomo Mishima who had been living with her mother. Tomo, a young kindergartner, is the illegitimate child of Tomoyo's father and another woman named Yuuko Mishima. Tomo moves into Tomoya's apartment due to her mother's psychological problems which greatly affected the young girl. Tomoyo loves her half-sister very much and takes care of her constantly since she has always had a weakness for children.
Tomoyo also has a younger brother named Takafumi Sakagami who is very skilled with computers. He installs a personal computer in Tomoya's room, and then comes to live in the apartment. Takafumi has an ex-girlfriend named Kanako with a foul mouth and who is excessively sarcastic, whose surname is not revealed. She is not happy that her mother remarried and thus does not like to live at home. She too comes to live in Tomoya's apartment. She has a cameo appearance roughly eighteen minutes into episode six of the Clannad anime series. A central theme in the story is the ties between families, much like in Clannad.
There are no images in this album yet
---
User Feedback