Tommy's Trash!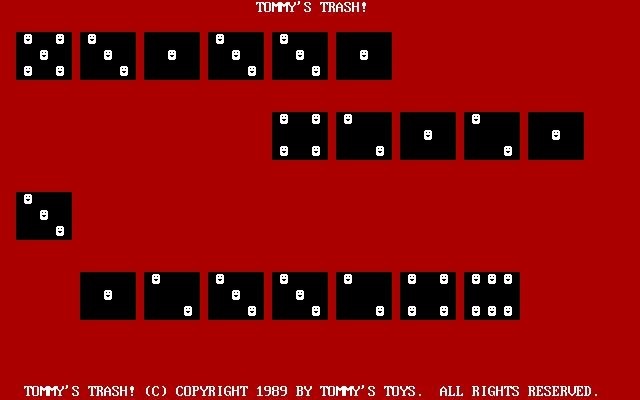 Console : DOS
Language :

Genre : Board game
Multiplayer : 1 player
Year : 1989
Developer : Tommy's Toys
Publisher : Freeware
Tommy's Trash! is a shareware dice game. It is based on the game Zilch, is played with six dice, and up to nine people including the computer can play. This implementation also contains 'Tommy's Mutant Trash' a two player variant of the game where the player plays against the computer and a Rotary Club mode where the object is to achieve the lowest score.

A game can be for five thousand, ten thousand or fifteen thousand points and the dice combinations that score will vary depending on the kind of game being played. At its simplest a player rolls the dice, technically called 'throwing a trash', and if they score they can roll again, and again. Repeated throws build up their 'turn score' which they can lose completely if they roll and fail to score anything. The game has detailed help files which explain the many options and strategies

The game is entirely keyboard controlled. It has basic sound effects and command line switches to start the game with sound turned off and to force either a colour or monochrome display.
---
User Feedback