4
Tokimeki Memorial 2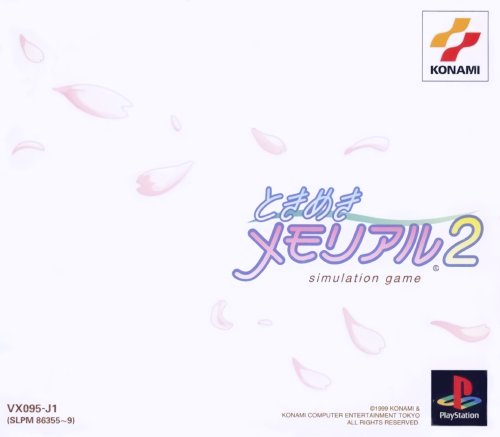 Console : Playstation
Language :

Genre : Simulation
Multiplayer : 1 player
Year : 1999
Developer : Konami
Publisher : Konami
The second game in the Tokimeki Memorial series is not directly related to its predecessor story-wise. The story takes place in a different high school (Hibikino High), and the protagonist's suggested main love interest is Hikari Hinomoto, whom he meets again after the two were separated since they were eight years old.

The game came on 5 CDs, featuring unmatched graphics and voice acting and a groundbreaking "Emotional Voice System (EVS)" where the girls could pronounce the player's name. Only Hikari Hinomoto and Kasumi Asou have the ability to use the EVS system in the actual game. All the other girls' EVS data came on CDs that were free in the Tokimeki Memorial 2 magazine "Hibikino Watcher". Each of the first three magazines came with a CD which had three of the girl's data on it per CD (the chosen girls on the CDs were also the three girls on the corresponding magazine cover). All the girls from the game have EVS data with the exception of Maeka Kudanshita, who always refers to the main player as "Shounen" (Japanese for young lad). The game itself was a big hit in Japan where the gameplay followed the same template as the first, but with a lesser emphasis on the bombs and a greater emphasis on solving unique challenges specific to each girl. As a result, a different strategy had to be devised for every playthrough.

Like its predecessor, Tokimeki Memorial 2 is a simulation of dating. The player character possesses statistics, which includes general attributes such as health and charisma, as well as school subject-specific parameters (literature, arts, science, etc.). Beside those personal statistics, there are also indicators concerning the relationship the protagonist is having with one of the girls. The focus of the gameplay is to arrange the hero's statistics in such a way that the result will attract the girl. Statistics can be raised by dedicating time and effort to corresponding activities (such as attending literature class and reading in order to raise the literature parameter). The player character can also participate in various school club activities, which might affect his attraction level to different girls.
Further information :
Please use the following PS1 emulators in order to have a fully enjoyable game experience: Mednafen, ePSXe.

There are no images in this album yet
---
User Feedback