The Great Battle III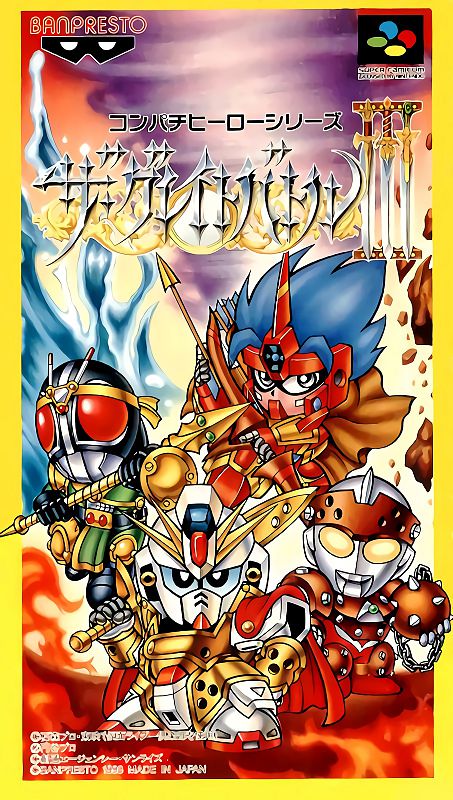 Console : Super Nintendo
Language :

Genre : Beat'em up
Multiplayer : 2 players
Year : 1993
Developer : Sun L
Publisher : Banpresto
Weekly games : 1

After their adventures in the last game the Compati heroes are cruising through space when a random asteroid hits their ship. The quartet crash on a medieval planet where they are immediately captured and brought before the king. Rather than tossing them in the dungeon the king enlists their aid in dealing with a nefarious sorcerer out to rule the world.

A number of mechanical changes have been made to the core gameplay that improve the experience a great deal. My biggest problem with the Last Fighter Twin was the short reach of each hero. Now that they are all equipped with weapons it solves two problems: reach and distinguishing characteristics. The Gundam F91 with its long sword has decent range and is the best-rounded. In my opinion Ultraman is the strongest but slowest. Kamen Rider RX has the longest reach and can toss bad guys with his spear which is insanely useful. Fighter Roa occupies a weird spot in the lineup. I found his attacks to be the quickest and his strength average. However his charged attack fires arrows that cover the length of the screen and can be used to cheese encounters.

Each title in the Great Battle series steadily improved and this third installment is one of its best. Had the difficulty been toned down a little bit the Great Battle III would have been a near classic. It will simply have to settle for just being a spectacular beat em up and one of the system's best.
Further information :
Translation version 1.0

Thanks to FlashPV for this translation.

There are no images in this album yet
---
User Feedback