Surf Ninjas
Downloads
Surf Ninjas 2020/01/03 1.21MB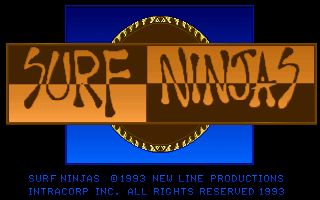 Console : DOS
Language :

Multiplayer : 1 player
Year : 1994
Developer : Creative Edge Software Ltd
Publisher : Capstone Software
Surf Ninjas is based on the 1993 movie of the same title. You play as Johnny McQuinn, a teenage surfer, who learned a couple of ninja moves. Your ultimate goal is defeating the evil Colonel Chi who threatens your island, and the game leads you from California all the way to the South China Sea.In the game, you can move left or right through several scrolling screens that constitute one level. One button is used to fight the randomly spawning ninjas in beat 'em up fashion, while another one can be used to enter buildings. The player has an inventory that can hold only one item at a time. These items are used to solve some small puzzles within each stage.
---
User Feedback