SuperTuxKart
Downloads
SuperTuxKart 2016/05/18 432.55MB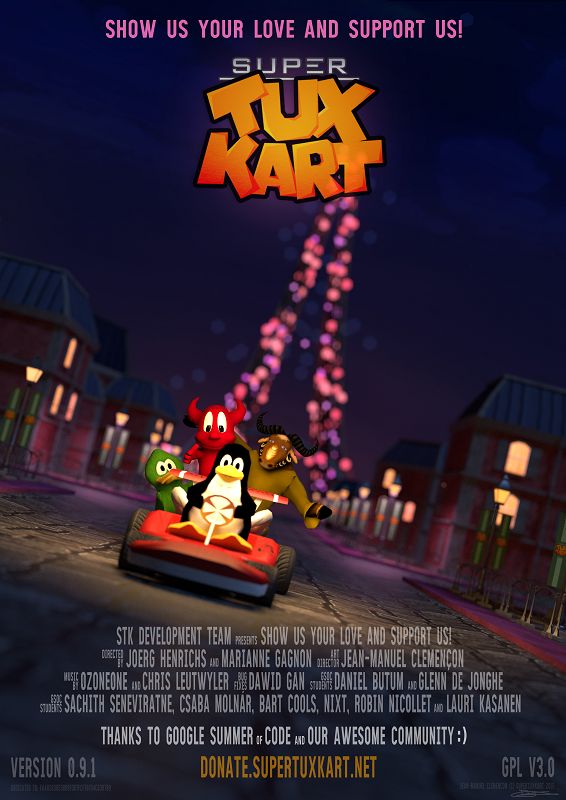 Console : PC
Genre : Racing
Multiplayer : 4 players
Year : 2004
Developer : Joerg Henrichs
Weekly games : 2

Karts. Nitro. Action! SuperTuxKart is a free 3D arcade kart racer with multiple karts, tracks and modes you can play. Beat the evil Nolok by any means necessary, and make the mascot kingdom safe once again! You can play with up to 4 friends on one PC, racing against each other, or you can just try beating the computer (a network multiplayer feature is planned).

See the great lighthouse or drive through the sand and visit the pyramids. Race underground or in space, watching the stars passing by. Have some rest under the palms on the beach (watching the other karts overtaking you). But don't eat the bananas! Watch for bowling balls, plungers, bubble gum and cakes thrown by opponents.

You can do a single race against other karts, compete in one of several Grand Prix, try to beat the high score in time trials on your own, play battle mode against your friends, and more!
Further information :
Version 0.9.1.

- Support de scripts (remplacement d'une partie des codes C++ par des scripts).
- Amélioration de l'audio.
- Amélioration des défis.
- Modification de 5 circuits (Classe de Maths, XR591, Fort Magma, Gran Paradiso, Sous la mer).

There are no images in this album yet
---
User Feedback