Super Mario Bros Special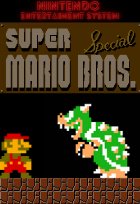 Console : NES
Language :

Genre : Platformer
Multiplayer : 1 player
Year : 2020
Developer : TRIFORCE89
Publisher : TRIFORCE89
Weekly games : 18

This started off as a palette restoration of Messatu's X1 hack. It is a combination of Messatu's enjoyable new minor features and lovely title screen, but with how Levi "Karatorian" Aho and frantik's hack actually looked like a NES game. Once the palettes and flash effect cycles were restored to that of their version, sprites were then also restored and a few small tweaks made.
SMB Special should be… special. So, inspiration was taken from All Night Nippon SMB. That game had a mix of tiles from SMB and SMB2j. So, the same was applied here. There are some tiles here from SMB2j as a result, but not all of them are. The intention was to make SMB Special feel like an in-between-quel for SMB and SMB2j and this seemed like a solution.
The beta ground tile from SMB2j is used here for the same purpose as well.
Further information :
Created by :
- Levi " Karatorian" Aho (Romhacking.net)
- frantik (Romhacking.net)
- Messatu (Romhacking.net)
- TRIFORCE 89 (Romhacking.net)
1st version of January 15th, 2017 on Romhacking.net

There are no images in this album yet
---
User Feedback