Space Ace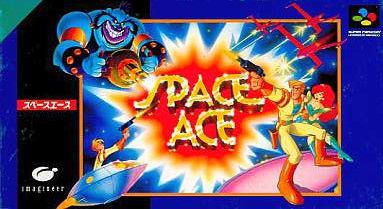 Space Ace is a laserdisc-based disc arcade game released in 1983, which featured animation by Don Bluth. The original was very popular and critically praised with ports to other platforms being released even to this day.

In 1994, Absolute Entertainment released a port of the game for the Super Nintendo Entertainment System. Though most versions of the game were well received, this port was critically panned.

On an expedition in outer space, the villainous Commander Borf attacks our musclebound hero Ace with the Infanto Ray. A weapon that transforms him into an adolescent version of himself, and kidnaps his girlfriend Kimberly. It's up to Ace as his younger incarnation, Dexter, to go after Borf, rescue Kimberly and stop him using the Infanto Ray to conquer Earth.

Since the SNES had limited storage, it ended up being a sidescroller with levels based on the scenes from the arcade game.
There are no images in this album yet
---
User Feedback