Sonic Heroes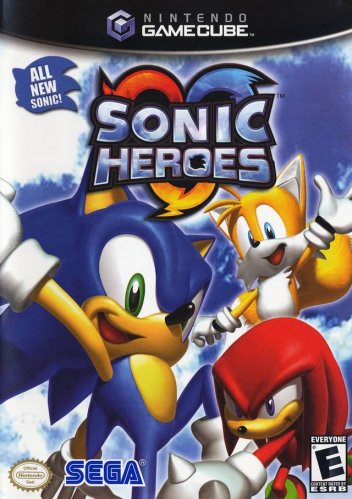 Console : GameCube
Genre : Action - Platformer
Multiplayer : 2 players
Year : 2004
Developer : Sonic Team
Publisher : Sega
Weekly games : 8

Back on our consoles, the whole Sonic gang has gathered in Sonic Heroes to challenge once again the unbearable henchmen of Eggman, aka Dr. Robotnik. But to combine business with pleasure, the merry men have decided to do it in teams, to see which ones are the best.

Sonic Heroes is based on an excellent idea, which consists in offering four teams of three characters. The interest lies in the possibility of playing as 12 characters, but also in the complementarities between these characters within the same team. Fans of the Sonic series are no doubt eager to know the names of the lucky ones and their distribution. Here is the list of the four teams that can be selected at the beginning of the game: Team Sonic (Sonic, Tails, Knuckles), Team Dark (Shadow, E-123 Omega, Red the bat), Team Rose (Amy Rose, Big the cat, Cream the rabbit) and Team Chaotix (Espio the chameleon, Vector the crocodile, Charmy the bee).

On 14 levels of twisted games, our friends will compete in speed and ingenuity to reach the Goal ring of each course as quickly as possible. Those who have already played the various 128-bit Sonic games will not be disoriented by the gameplay, which uses many elements of the Sonic Adventure games. The courses are long, the environments vast, the traps multiple and the speed of the game hallucinating. But Sonic Heroes also has its flaws, namely the not always optimized view angles, but also the too much assistance which gives the unpleasant impression of being taken by the hand without being able to do what you want. Of course, this is necessary given the level design, but the confusion is all the more frustrating as it is always essential to know the levels well to make a good score, and the freedom of action is also considerably reduced.

But anyway, those who keep a good memory of the 128 bits episodes will be able to forgive Sonic Heroes these few flaws, to focus on the new possibilities of this title, and they are numerous. The first thing to know is that even if each character has its own abilities, each team has a character focused on speed, another focused on strength, and a third focused on flight. From there, all the courses take advantage of this complementarity to force you to switch between your characters to overcome the challenges. Indicators tell you when it's a good idea to switch leaders to Speed, Power or Fly training, and it's up to you to figure out how to get past the obstacle with that training. Sometimes multiple branches are allowed for the same location, allowing you to choose the path that matches your preferred formation.
There are no images in this album yet
---
User Feedback