Socks the Cat Rocks the Hill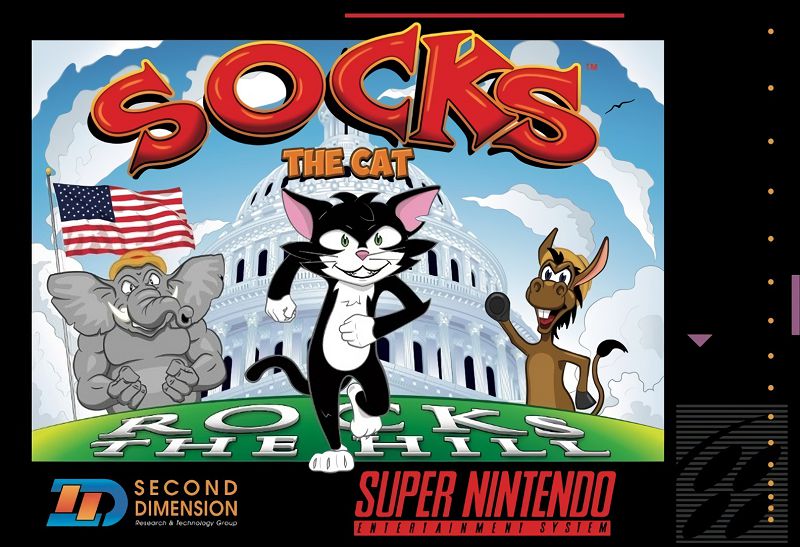 Console : Super Nintendo
Language :

Genre : Action - Platformer
Multiplayer : 1 player
Year : 2018
Developer : Realtime Associates
Publisher : Second Dimension
Socks the Cat Rocks the Hill is a platform video game developed by Realtime Associates for the Super Nintendo Entertainment System. The game stars Socks, the real life presidential pet of the Clinton family during Bill Clinton's tenure in office. Originally scheduled for release in the fall of 1993, Socks the Cat experienced delays until it was ultimately canceled due to the closure of publisher Kaneko's U.S. branch in the summer of 1994. The game was complete however, and review copies were still distributed to gaming publications. A prototype cartridge of the SNES version eventually entered the hands of private collectors, and a Kickstarter campaign to fund a relaunch of the game was successfully funded and originally anticipated a July 2017 release but it was delayed until February 1, 2018. Its ROM image was soon released to the public.
Set in Washington D.C., Socks the Cat Rocks the Hill follows the title character as he makes his way past spies, politicians, and the news media to warn the Clinton family of a stolen nuclear missile launch device. The game makes heavy use of political satire, including bosses designed as caricatures of former U.S. presidents and other political figures. Nintendo reportedly liked the game despite their censorship policies during the era which condemned games with political content. The political satire was also praised by critics, although the game was otherwise found to be average.
There are no images in this album yet
---
User Feedback