2
Sly Racoon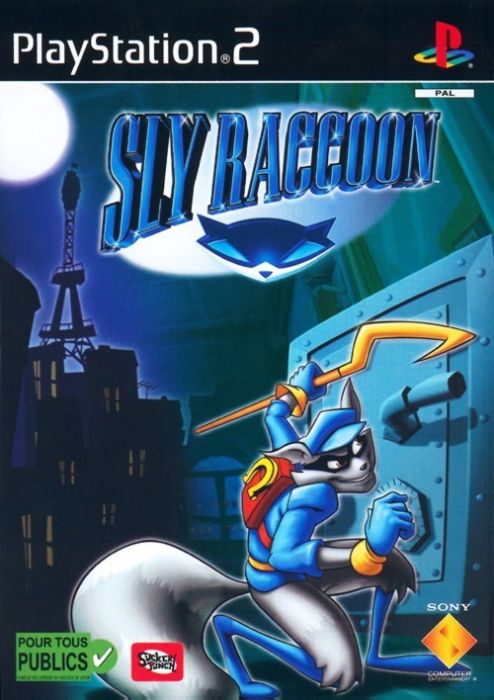 Console : Playstation 2
Genre : Action - Platformer - Stealth
Multiplayer : 1 player
Year : 2003
Developer : Sucker Punch
Publisher : Sony
Weekly games : 49

Sly Cooper is the latest in a long line of master thieves. When he was a kit, a gang called the Fiendish Five killed his family and divided up their book on the art of thieving: the Thievius Raccoonus. Sly must defeat all the members of the gang to recover the book while evading Carmelita Fox, a police officer chasing him around the world to apprehend him.
This game is divided into five worlds, each themed around a particular part of the world and the villain headquartered there. Most worlds are structured as a central hub with entrances to numerous individual levels. Each of the levels has a primary goals which earns you a key. You must collect all the keys in the world to fight the world's boss.
Many of the levels have a platformer structure. The objective of these worlds is to reach the location of the key. There are substantial stealth elements here as you must dodge searchlights and trips lasers which set off alarms and avoid alerting guards. In addition to the main objective, there are clue bottles to find. Finding all the clues in a level allows you to open a safe with a page from the Thievius Raccoonus which grants a new ability of some sort. After getting this, there is also a master thief sprint where you must get from the start of a level to the exit within a time limit.
There are also mini-game levels which could be kart-style racing, several varieties of shooter or assorted other tasks, such as collecting objects before your enemies do.
Boss fights also run to several styles, ranging from platforming, to more straightforward combat to puzzles to rhythm to shooter.
All artwork is done in a cel-shaded style and dialogue is fully voiced.
There are no images in this album yet
Related videos
---
User Feedback