Simple 1500 Series Vol. 51: The Jigsaw Puzzle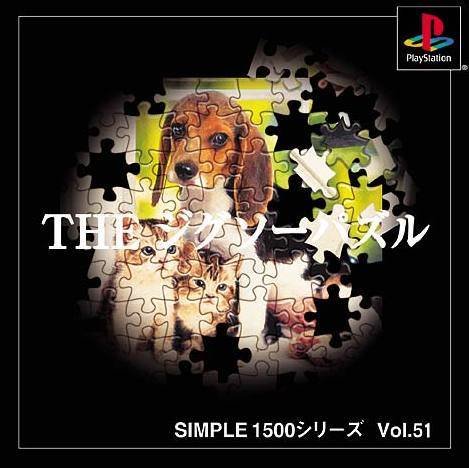 Console : Playstation
Language :

Genre : Puzzle
Multiplayer : 4 players
Year : 2000
Developer : AMS
Publisher : D3 Publisher
Weekly games : 1

Simple 1500 Series vol.051 - The Jigsaw Puzzle features more than 200 different jigsaw puzzles, and the player can choose the difficulty level and there are different subjects and styles.

A jigsaw puzzle is a tiling puzzle that requires the assembly of numerous small, often oddly shaped, interlocking and tessellating pieces. Each piece usually has a small part of a picture on it; when complete, a jigsaw puzzle produces a complete picture. In some cases more advanced types have appeared on the market, such as spherical jigsaws and puzzles showing optical illusions.

Jigsaw puzzles were originally created by painting a picture on a flat, rectangular piece of wood, and then cutting that picture into small pieces with a jigsaw, hence the name. John Spilsbury, a London mapmaker and engraver, is credited with commercialising jigsaw puzzles around 1760. Jigsaw puzzles have since come to be made primarily on cardboard.

Typical images found on jigsaw puzzles include scenes from nature, buildings, and repetitive designs. Castles and mountains are two traditional subjects. However, any kind of picture can be used to make a jigsaw puzzle; some companies offer to turn personal photographs into puzzles. Completed puzzles can also be attached to a backing with adhesive to be used as artwork.

During recent years a range of jigsaw puzzle accessories including boards, cases, frames and roll-up mats has become available that are designed to assist jigsaw puzzle enthusiasts. Some jigsaw enthusiasts suggest that it is unethical (against the rules) to look at the picture on the box while working on the puzzle, but most people find it to be perfectly normal to look at the box.
Further information :
This game works with Mednafen Emulator.

There are no images in this album yet
---
User Feedback