Shachou Eiyuuden : The Eagle Shooting Heroes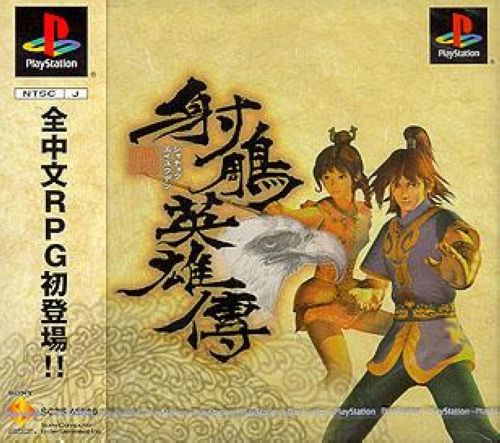 Console : Playstation
Language :

Genre : RPG
Multiplayer : 1 player
Year : 2000
Developer : Sony
Publisher : Sony
Shachou Eiyuuden: the Eagle Shooting Heroes is an original Playstation game based on the first book of Louis Cha's (Jin Yong's) Condor Heroes Trilogy, The Legend of the Condor Heroes.

The game follows the life of Guo Jing during the Song Dynasty, a distant descendant of Guo Sheng of the 108 Outlaws from the Water Margin (Suikoden). The plot begins well before his birth in Niu Jia Village where Guo Xiao Tian and Yang Tie Xin and their respective wives, Li Ping and Bao Xiruo, live. One night, the two friends help the famous taoist Qiu Chu Ji fight Jin soldiers. As thanks, Qiu Chu Ji, upon learning both wives are pregnant, names the two unborn children Guo Jing and Yang Kang, after the Jing Kang Incident as a reminder of the presence of foreign invaders.

Not long after, a Jin attack on Niu Jia Village results in the death of Guo Xiao Tian and Yang Tie Xin as they buy time for their wives to escape. Li Ping escapes to the Mongolian steppes. It is there that she gives birth and raises Guo Jing. As a child, Guo Jing befriends the famous Mongolian General Jebe. When Jebe pledges allegiance to Genghis Khan, Li Ping and Guo Jing begins living with Genghis Khan and his people. It is here, on the Mongolian Steppes with the children of Genghis Khan, Guo Jing grows up.

Yang Kang, on the other hand, is born and raised in the Jin Imperial Court as a Jin Prince. Bao Xiruo, upon fleeing, is saved by a Jin Imperial Prince. In contrast with Guo Jing, Yang Kang is raised in the rich excesses of the Jin Royal Family.

Qiu Chu Ji, on hearing the tragedy that has befallen Niu Jia Village, makes a bet with Jian Nan Seven Freaks to find the two respective children. If they live, to teach them their respective martial arts. 18 years later, the two children will compete and the winner will decide the winner of the bet between Qiu Chu Ji and Jian Nan Seven Freaks.

The game continues over the life of Guo Jing as he finds himself in the intrigue of the pugilistic world, fights his rival Yang Kang, and rises in skill.

The gameplay is a traditional turn based role-playing game. Special skills are classified between Inner Skills, Outer Skills, and Lightness Skills which act as rock-scissor-paper to each other. There are various mini-games at various points in the plot.

The game is notable in that it is voiced with Mandarin voice actors/actresses from the Hong Kong/China film industry.
There are no images in this album yet
---
User Feedback