Sega Ages 2500 Series Vol. 22: Advanced Daisenryaku: Deutsch Dengeki Sakusen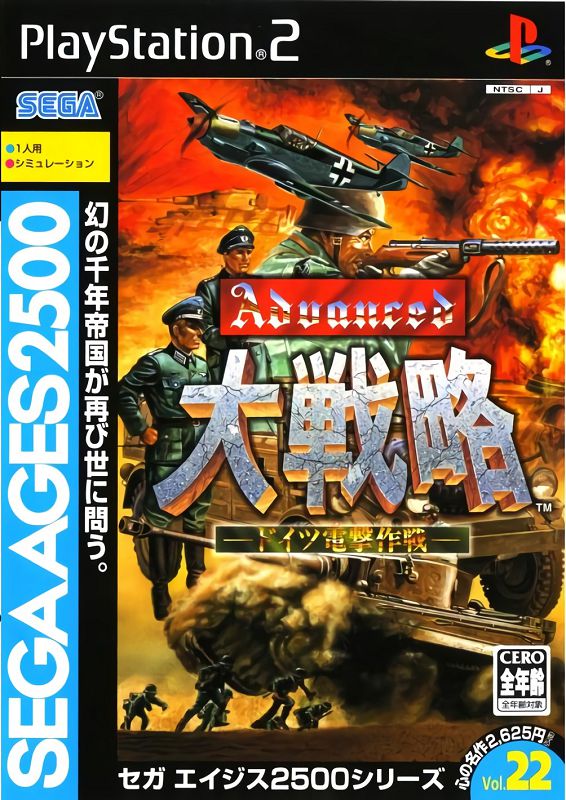 Console : Playstation 2
Language :

Genre : Strategy
Multiplayer : 1 player
Year : 2006
Developer : 3D Ages
Publisher : Sega
Sega Ages 2500 Series Vol. 22: Advanced Daisenryaku: Deutsch Dengeki Sakusen is a remake of Advanced Daisenryaku: Doitsu Dengeki Sakusen. "The German Blitzkrieg" allows the player to take command of the entire German army through the course of WW2 and affect its outcome. Gameplay is turn-based over a classic hex board and the game features a dynamic campaign mode as well as a standard mode which allows you to freely select and play any of the 40 maps available with full control over units and victory conditions.
New to this release is a polygonal board with 3D units as well as a revamped interface. However, players can also find the original German Blitzkrieg in emulated form. The game allows for up to 7-player multiplayer matches in "hotseat" fashion.
Despite a graphical and audio update, little has changed in this release, and none of the upgrades in game's many sequels were put into this version.
There are no images in this album yet
---
User Feedback