5
Red Earth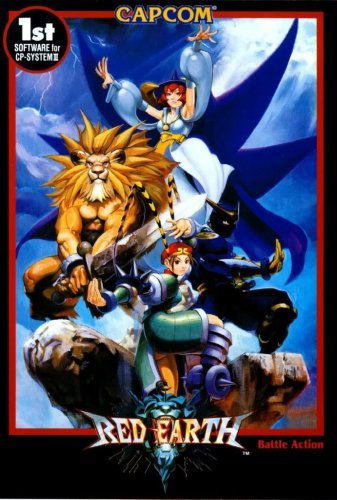 Console : Arcade
Language :

Multiplayer : 2 players
Year : 1996
Developer : Capcom
Publisher : Capcom
Weekly games : 8

Red Earth is a 2D fighting arcade game, with the action taking place in an alternative 14th century, or a post-apocalyptic 1999 (depending on release regions). The player can choose one from four characters:
Leo - a half-lion half-man, The King of Savalia
Kenji - a leader of an elite ninja squad
Tessa - a female sorceress
Mai-Ling - a female talented martial artist
Gameplay is similar to the Street Fighter series, with six button controls. There are some significant differences, for example, the enemy character has a much longer life gauge than the player. The opponents in the game's quest mode are unplayable monsters. There is also a two-player versus mode, but the character selection for the players is limited to the four mentioned before. Red Earth also has fatalities, something that is more associated with Mortal Kombat rather than Capcom fighters, and it also features experience points and a password system.
Further information :
To launch the game, you must first install it in your MAME

1. Download the CHD version
2. Find the game in its directory (\ Romstation \ app \ games \ downloads \ Red Earth \ files \ 47997)
3. Unzip the archive and recover all the files that were inside
4. Go to your MAME folder (\ Romstation \ app \ emulators \ downloads \ MAME \ files \ MAME)
5. Go to the roms folder and create a folder with name: redearth
6. Paste all files in this folder
7. Unzip the 2nd archive (found in the 1st archive) and paste its files in the redearth folder created just before

Then you can launch your game from romstation
---
User Feedback