Punky Skunk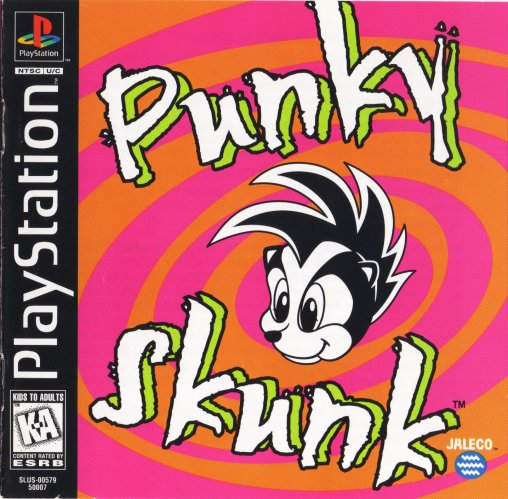 Console : Playstation
Language :

Genre : Action - Platformer
Multiplayer : 1 player
Year : 1998
Developer : Ukiyotei
Publisher : Jaleco
Punky Skunk is a side scrolling platformer where the titular skunk has to rescue his friends from a mad wolf who is threatening to take control of the world. Like in other games of its kind the player has to make his way through the levels by running left and right, jumping and using a spray attack to take out the various enemies that stand in his way. To complete a level the player has to reach a flagpole and attack it. When hit by an enemy the skunk loses one of his green orbs (which acts as hitpoints) and when all out of these a life is lost. More orbs can be earned by taking out enemies. Collectable stars can be found all around the levels and by getting a hundred of these an extra life is earned.

The player will come across various extreme gears that allow him to progress through the levels. Once a gear is equipped the regular spray attack can not be used. There are six gears but only one can be equipped at a time. These include the diggers which allow the player to dig through earth in a Dig-Dug fashion, the paraglider which allows him to use air currents to his advantage, the pogo stick that allows him to jump higher, the skates which allows him to move really fast and the snowboard which allows him to gain speed on downhill slopes. There is also a jetpack that is only available towards the end of the game.
There are no images in this album yet
---
User Feedback