Viidakkokirja: Svengiseikkailu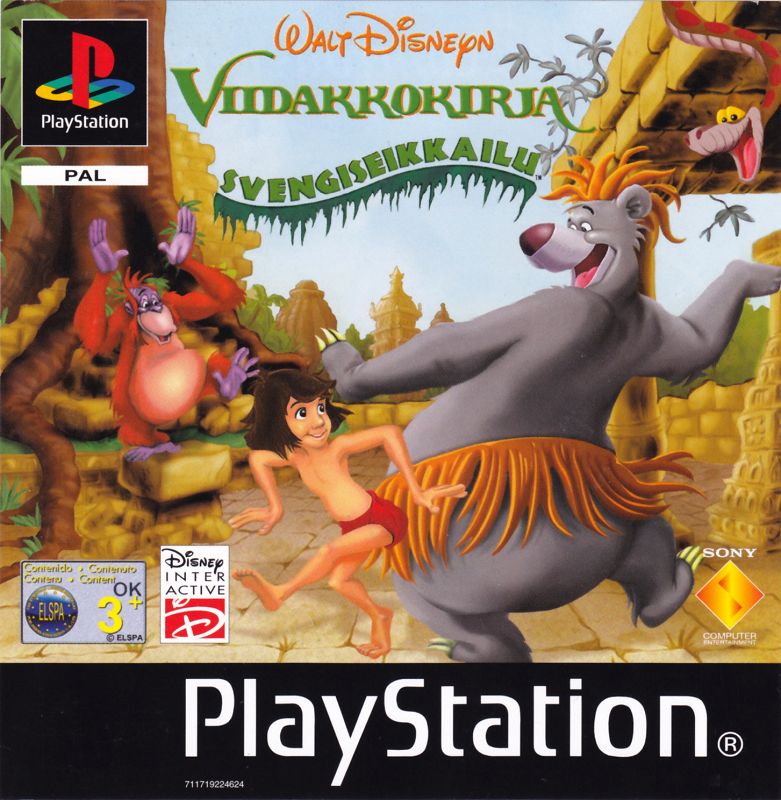 Console : Playstation
Language :
Genre : Music
Multiplayer : 2 players
Year : 2000
Developer : Ubisoft
Publisher : Disney Interactive
Players dance their characters through Walt Disney's The Jungle Book: Rhythm 'N' Groove. Work the game-pad to the beat and keep Mowgli dancing through nine different environments. Mowgli's adventure moves forward as he matches the increasingly difficult dance moves of characters he meets in his journey.
The game's song list includes fresh interpretations of musical favorites from the well-loved Disney cinematic interpretation of the Kipling classic, including King Louie's "I Wanna Be Like You" and Baloo's "Bare Necessities." The game features 3D graphics and 15 minutes of full-motion video.
The Jungle Book: Rhythm n' Groove also features more options than most musical dancing games. Based on the original Jungle Book, the basic storyline is close to the real thing. After tackling the single-player game, a Versus mode is available; here, you'll pick whatever character you want and out-dance a human or computer-controlled opponent. There's even an option of picking songs of your choice and playing through the scenario. If that isn't enough, an intense bonus game is available to challenge seasoned veterans.
The Story mode features gorgeous cut-scene animations that, alone, are almost worth the price of admission. While these sequences are amazingly produced, the in-game visuals are weak in comparison because of the PlayStation's graphical limits; the characters are quite blocky. Had the game been released on a more powerful console, the actual visuals would have been virtually identical to the cut-scenes.
Another interesting feature in The Jungle Book: Rhythm n' Groove is the inclusion of power-ups -- something most games in the genre lack. Power-ups are useful for defeating bosses; you can use walls of fire to temporarily stop the opposition and burn up any falling arrows.
Additionally, there are multiple skill levels that will progressively challenge you. After playing the game a few times, however, it becomes somewhat tiresome. Although the Versus mode adds to the replay value, the game will wind up on the shelf rather quickly. There are some extra features that help somewhat, but seem to fill up left over disc space. The Lou Vega music video is actually well done and his remake of I Wanna Be Like You is good.
There are no images in this album yet
---
User Feedback