2
Pokémon Dark Cry : The Legend of Giratina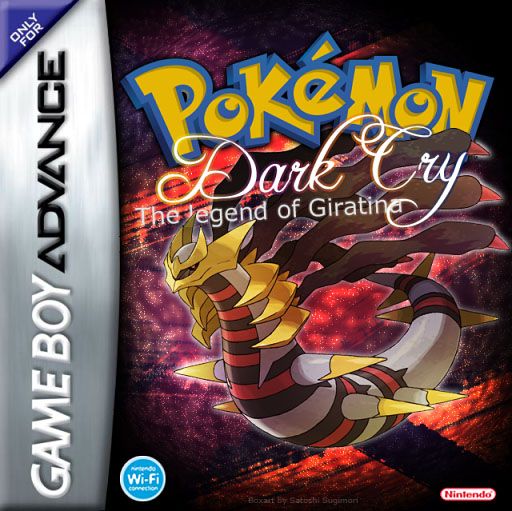 Console : Gameboy Advance
Language :

Genre : RPG
Multiplayer : 4 players
Year : 2009
Developer : Mitchel1
Weekly games : 6

L'histoire débute alors que vous vous réveillez gisant au fond d'une sombre cave où personne ne semble vous entendre. Soudain, vous vous apercevez que deux personnes se tiennent devant vous, près d'un ténébreux autel. Sur ce dernier repose une étrange plaque du nom de "Shadow Plate" selon les dires des deux étranges protagonistes. Dans un élan de folie vous décidez de les affronter dans un combat de Pokémon !... mais aucun de vos pokémons ne semble vous accompagner. C'est à ce moment là qu'un mystérieux personnage, arborant un emblème en forme de "R", décide de s'approcher de vous de façon déterminé. En tentant de l'arrêter, cette personne vous passe littéralement au travers, continuant dans sa lancé il fini au fond de la pièce pour accomplir un étrange rituel qui semble provoquer un terrible tremblement de terre, puis une ombre gigantesque apparait et se précipite dans votre direction provoquant votre réveil. Réalisant que tout cela n'était qu'un rêve vous décidez de sortir de votre lit, couvert de sueur (ou de pipi, qui sait...), pour vous apercevoir qu'il est déjà l'après-midi... trop tard pour votre rendez vous chez le professeur pour recevoir votre premier Pokémon !
Pokémon Dark Cry : The Legend of Giratina est une hack-rom de Pokémon Rouge Feu et possède comme particularités :
- Quatre Fakemon inédits, un nouveau héros/héroïne et professeur, de nouveaux champions d'arènes ainsi que deux rivaux
- Une difficulté accrue, une nouvelle histoire, région, des quêtes secondaires et les ruines d'Alpha sont disponibles
- De nouveaux scripts, un système Jour/Nuit, des Time based Events, nouveaux ASM routlines, un nouveau POKéPAPER
- Des nouveaux Battlegrounds, Sprites d'intro, Tiles, palettes, musiques, une nouvelle boîte de dialogue
et bien plus encore...
Further information :
Si votre jeu se fige sur un écran blanc au démarrage, allez dans 'Options>Emulateur>Type de sauvegarde' et sélectionnez Flash 128K au lieu de Flash 64K. Redémarrez ensuite votre jeu pour qu'il s'exécute correctement. Notez enfin qu'il vous faudra peut-être revenir à l'ancien réglage sur d'autres jeux.

There are no images in this album yet
---
User Feedback