PC Pachi-Slot Idol Gambler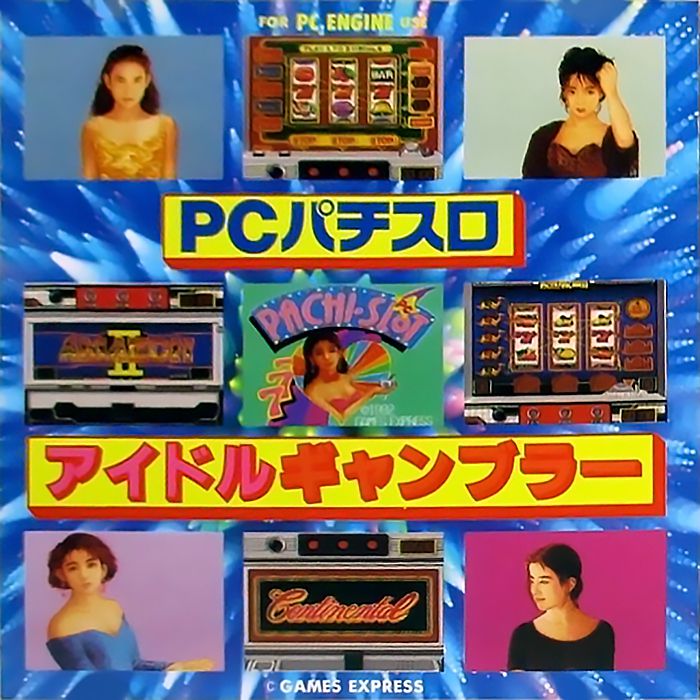 Console : PC Engine
Language :

Genre : Casino
Multiplayer : 1 player
Year : 1992
Developer : Hackers International
Publisher : Game Express
It's amazing how video game developers were quick to associate games of chance with hotshots.

PC Pachi-Slot first offers two game modes, which is absolutely useless since it is the normal mode and training. At the beginning of the game, you are credited with 100 tokens. You then choose from three destinations, that is to say that you will be entitled to rinse your eyes on three different nénettes. Then you choose the type of machine (the decor of the machine in fact, between a classic or oriental design) and finally the machine itself. Indeed, as in casinos, rows of identical machines are aligned next to each other, some having more chances to win than others. Thing that the customer ignores, of course.

Once in front of the machine, it is very simple: you place a coin in the slot by means of the button I and launch the three casters simultaneously by pressing button II. You then stop the left, middle, and right wheels, respectively with the left, right, and right directions of the directional pad. Note that you can bet from one to three tokens: one token and only the middle line is counted, two tokens and three lines count, three tokens and the three lines plus two diagonals count. All the interest of the thing then amounts to aligning winning symbols. There are many combinations, but only a handful of grapes. For example, three bells offer you fifteen tokens, the bluish pastilles offer you a free ride, etc.

You can collect chips up to fifty. After this step, any additional earnings will be credited directly to your account: this is how you will earn enough money. Each girl asks you for some money to remove the awful black frame that hinders your view.

PC Pachi-Slot has many flaws. First of all, the game is not especially beautiful. The machines are correct, but you can imagine that it is mostly models that I speak. And there is not joy.

Then there is the fact that the machines are so big that they have three screens all on their own. So the game is constantly going back and forth to show you everything, and it quickly becomes painful. I also spend a modest veil on music, because it's naughty to tackle the weak like that.

Finally, the game is not even fun to play, his orders being much less engaging than those of CD Pachi-Slot Bishoujo Gambler on the same support.

The only advantage to playing this game is that for once you will not need to spend your salary for fun. But on this account, it is better to interest you to the little brother pre-cited (CD Pachi-Slot Bishoujo Gambler), which is much better realized.
---
User Feedback